Undertoad Saturday Sep 15 12:47 PM

9/15: Crocodile meat

This will be boring for Jag and other Aussie friends, I expect, but for the rest of us:

Step 1: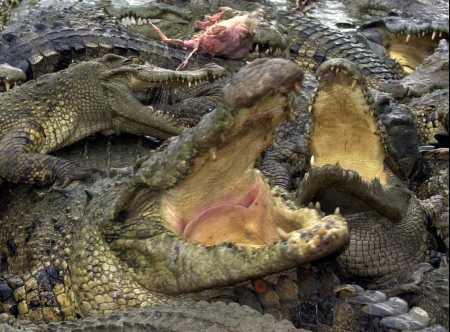 Crocs are farmed.

Step 2: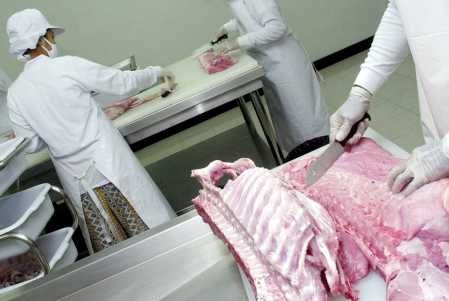 Crocs are slaughtered and cut up, and --

Step 3:




A can ready for selling in Thailand, where croc meat is becoming popular. One can of "Golden Croc" is US$4.50.

---

CyclopONE Saturday Sep 15 01:06 PM

At this year's Taste of Chicago (from June 29 to July 7), a large food festival, one of the new booths was a restaurant specializing in cajun food, and among their offerings was spicy alligator on a stick. Tasted pretty good too, and I had 2 helpings. Tastes a bit like chicken, but with the texture of beef. VERY juicy too. If you're in Chicago during this festival and you don't attend, you're missing out on a lot.

They also had Ostrich Burger. =)

-Cyc

---

Chewbaccus Sunday Sep 16 12:54 AM

I wouldn't mind eating ostrich once. Just to say I did.

Horizoningly,

~Mike

---

elSicomoro Sunday Sep 16 01:01 AM

I haven't eaten anything really dramatic, but Rho ate curried goat once...she said it was very tasty.

---

jaguar Sunday Sep 16 07:46 AM

snake is good
dog ain't bad
i've probably eaten various rodent bits in vietnam street stalls (yes i am that suicidal) but i wound't know what - tasty but!
kangeroo is pet food
croc i never had

---

serge Sunday Sep 16 08:29 AM

Most 'exotic' for me, so far, is cod liver.

---

BrianR Sunday Sep 16 05:26 PM

ostrich meat

you can buy it where I buy mine... in the Italian Market at the exotic meat butcher. It costs $9.95/lb but is worth it IMO.

He also has good venison and sausages made there fresh. Good prices on those too.

Brian

---

alphageek31337 Sunday Sep 16 11:07 PM

Varietous meats

Well, since it's come up, here's a list of strange animals I've eaten parts of, or animals I've eaten strange parts of:

Venison heart: *wonderful*...my father had killed the deer himself, and I had him save me the heart. Rather tough, but juicy, and when allowed to marinate, quite great

Shark: backbone steaks near the tail. very tender, salty, didn't taste much like fih at all. to beat a dead cliche, it tasted like chicken

Dog: (my pet Jack Russel read this, as he's sitting on my lap right now, trying to lick a grease stain out of my shirt just for the hell of it. his eyes bugged out, and he slapped me) It's beef, but cheap. Same with cat....no real taste difference at all.

Ostrich: A good freind of mine owns an ostrich farm. They're also quite tasty, like free-range chicken or wild game hens. Meat along the thigh is a little tough, but they make the biggest goddamned hot wings I've ever eaten.

Croc: Salty, beefy, a little bit stringy (it was saltwater croc I ate.....imported, hard to find, expensive....I felt like splurging on something rare to impress a chick. I still didn't get laid). I'm not a fan of crocodile swimming in water or honey glaze.

Tuna: Now this may not seem strange, but the strange part was it was a 30 lb yellow-fin that had died less than an hour before we ate it. My god was it great. I can never go back to the canned crap now.

that's about all I can think of....but until then, mull over the attached image.

---

jaguar Monday Sep 17 05:26 AM

Hey!!
Friendof mine got fed that stuff in China when he went with chinese on a business trip, another 'lets see what we can get silly forigners to eat' thing i think, very common in Vietnam.

---

dave Monday Sep 17 10:53 AM

When I was in Quebec 8 years ago on a ski trip, I had escargot. It was pretty tasty.

My friend Matt had raw horse in Japan. Said it was really smooth. Just picked up a sliver of it and ate it. Dunno if I could do that



Can't think of anything else "exotic" that I've had. Just your typical hamburgers/hot dogs/beef baja chalupa/chicken breast sub kinda guy.

---

Undertoad Monday Sep 17 11:04 AM

All I can add is...

Black Bear: fatty/stringy, sort of like the fattier section of a beef brisket, with a slightly gamier taste.

Rattlesnake: like chicken, but my memory of it is very hazy.

---

Slight Monday Sep 17 03:23 PM

Take a look at Step 2, The chick on the left is wearing Croc pants

---

ndetroit Monday Sep 17 03:39 PM

I've had the rattlesnake (in convenient sausage format).
-moose (my uncle shot it)
-elk (ditto)
-shark's fin soup (chinese wedding)
-pidgeon (blackened... again, chinese wedding)
-buffalo (and buffalo cheese... mmmmm)
-and tons of ostrich.. for some reason, it's on the menu at a lot of restaurants where I am (vancouver).


but the worst thing I've eaten by far is live Hermit Crab. I was out at a dinner in japan, and they just brought in these big hermit crabs on a platter, and everyone started chomping down on them... They were still wiggling around and whatnot. Odd colored blood, too. But... I didn't want to offend anyone, so I gave it a go...


That's nothing compared to our CEO though. He was telling me about this one time when he was doing business in China, and they took him out for dinner....

And the waiter brought out the main course:

(Heavily sedated) live monkey, with the head 1/2 sawed off.. (opened up like a bowl).
You are supposed to eat the brains.. Yeah.. just like in Indiana Jones....
He told them that as nice as their hospitality was, there's no way he's gonna eat that....

They all laughed at him, ordered him a steak, and dug in..

yum.

---
Your reply here?

The Cellar Image of the Day is just a section of a larger web community: a bunch of interesting folks talking about everything. Add your two cents to IotD by joining the Cellar.