Undertoad Friday Mar 12 02:42 PM

3/12/2004: Snow Geese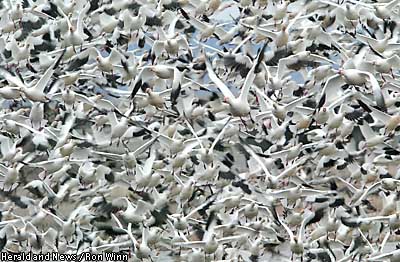 Happy Friday! This is hundreds of snow geese lifting off from a pond at the Klamath Wildlife Area south of Klamath Falls, Ore., a stop on their annual migration.

And with my lack of attention span, it resembles my mind some days.

---

Kitsune Friday Mar 12 02:59 PM

...coming soon to a recently-washed car near you.

---

MachineyBear Friday Mar 12 03:32 PM

It just looks like a pile of bleached chicken bones to me, or almost like one of those Magic Eye images. I'm still looking for the real 3d image.

---

glatt Friday Mar 12 03:59 PM

an excellent example of a telephoto lens compressing an image

---

Torrere Friday Mar 12 04:25 PM

Quote:

Originally posted by Kitsune
...coming soon to a recently-washed car near you.

you mean:
...coming soon to your recent-washed car.

I've seen and photographed massive flocks of gulls, but they had nothing on this.

---

poohbearbeth Friday Mar 12 04:25 PM

Where's Waldo?

I think I see waldo in the top left hand corner...


Seriously...this is a neat photo

---

Nerollss Friday Mar 12 05:02 PM

I give this pic a thumbs up!!!

---

xoxoxoBruce Friday Mar 12 07:13 PM

Quote:

Originally posted by glatt
an excellent example of a telephoto lens compressing an image

The only way to stay clean.

---

chrisinhouston Saturday Mar 13 10:44 AM

Damn one got in my living room!

---

lumberjim Saturday Mar 13 11:01 AM

find waldo

this is like those 3d magic pics...it took me a little bit less than the 60 seconds they recommend, but i finally began to see him....pretty cool. I found it helped to get real close to the monitor, and slowly pull back.

find waldo

---

chrisinhouston Tuesday Mar 16 10:43 PM

Bang Bang

They better watch out for this guy!

---

jaguar Wednesday Mar 17 07:38 AM

I'm with glatt, i'm guessing a 300mm+

---

chrisinhouston Wednesday Mar 17 10:01 AM

"This is hundreds of snow geese lifting off "

Actually, more like several thousand. Unlike other typical geese that migrate across the USA like Canada, Brant and White Fronted (Specklebelly) geese which prefer small groups, Snow geese are attracted to large groups. My area of Texas is home to about 70% of the Central Flyway (the rest being mostly east of here in Louisiana and other Gulf states) and the vast majority of geese wintering here are Snow and Blue Geese, a color phase of the white Snow goose.

If you have never been near a huge roost of birds as they "wake up" in the early morning, it is hard to imagine. As the sun breaks over the horizon, small groups start breaking off, heading out to the fields to eat (geese typically roost on ponds of water or the adjoining flats). Then, perhaps triggered by some predator or perception of one or just an animal world alarm clock, they all get up, I mean the whole group in the thousands like in the picture. One wonders how they don't crash into each other. I once shot 2 shots from my 10 guage double barrel shotgun into a group like the one pictured and knocked down 7 birds. The limit here is 20 per day during the regular season and unlimited during the Special Snow Goose Conservation Season, when electronic calling devices may be used as well.

They often go into a large spiral flight pattern, circling around the lift off point as they gain altitude. As they fly towards you the noise can be deafening, as they turn to fly away, they go almost silent. Truly, quite inspiring.

The huge increase in their numbers over the years is partly due to increased agricultural activity in their migration routes, i.e. they are eating better during the cold and wet winter months. The problem is their numbers have surpassed the viability of the land resources in the Artic where they spend their summers, on the tundra. That is why the daily limits are so high, they are virtually destroying the tundra which takes years to re-grow.

I recommend "Winged Migration" as a movie for anyone interested in seeing lots of birds in flight.

---

daniwong Monday Mar 22 10:20 AM

This is really close to me as I live in Clackamas Oregon. I have geese & ducks out in my pool. Fun to look at. Cat loves chittering at em.

---

lumberjim Monday Mar 22 10:31 AM

Hey, daniwong. where the hell have you been?

---
Your reply here?

The Cellar Image of the Day is just a section of a larger web community: a bunch of interesting folks talking about everything. Add your two cents to IotD by joining the Cellar.