Undertoad Friday Apr 9 11:14 AM

4/9/2004: Polar bears interact with submarine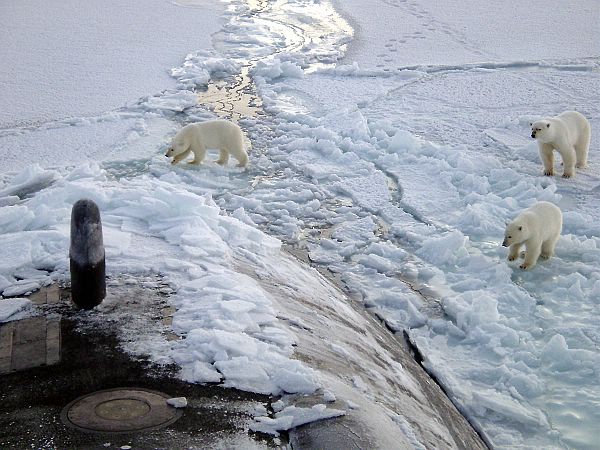 Another annual thing? Last year we had a sole polar bear attacking and trying to eat a sub, now this much finer, higher-quality shot of *three* bears taking a curious look at what has popped out of the ice next to them.

I guess they took the first shot from the periscope: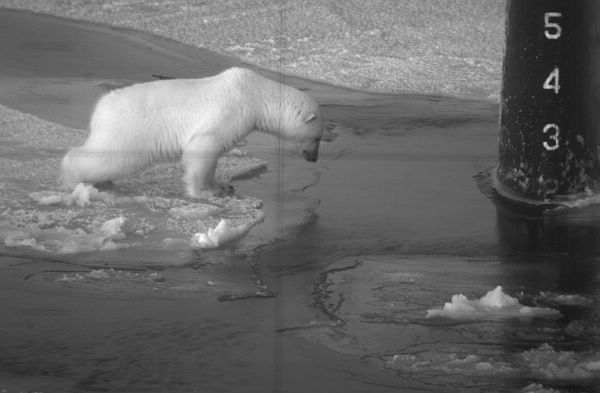 I doubt these animals have any fear in them whatsoever, but he's gotta be saying "what the fuck??" when faced with an enormous black beast pushing through the ice. They are beautiful creatures.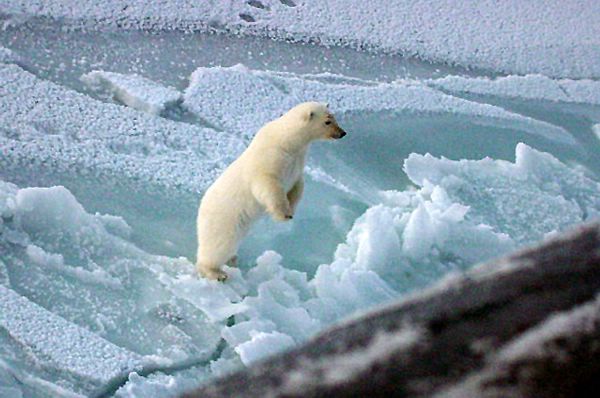 Thanks to whomever sent these along - I forgot to remember again.

---

CharlieG Friday Apr 9 12:01 PM

I know, I know - I've used this before (recently) but whenever polar bears come up, it springs to mind

Polar Bears are Nothing but rectangular bears after a coordinate transform...

(Of course it should be Cartesian Bears, but....)

---

glatt Friday Apr 9 12:03 PM

Those are some really neat pictures. I imagine the pictures were taken from the periscope. If that's the case, nobody ever popped a hatch open, and the bears never got the scent of a human. It's just a UFO to them.

I wonder if the bears cought the scent of a human. Does anyone know details about what subs do in this instance? I'm pretty sure I read that they manufacture their own fresh air, so they only surface to use the radio. And even then, they can receive low-frequency instructions while submerged.

---

lumberjim Friday Apr 9 12:08 PM

i forgot to include this part in the email i sent you:


Quote:

031000-N-XXXXB-001 Arctic Circle (Oct. 2003) -- Three Polar bears approach
> the starboard bow of the Los Angeles-class fast attack submarine USS
> Honolulu (SSN 718) while surfaced 280 miles from the North Pole. Sighted
by
> a lookout from the bridge (sail) of the submarine, the bears investigated
> the boat for almost 2 hours before leaving. Commanded by Cmdr. Charles
> Harris, USS Honolulu while conducting otherwise classified operations in
the
> Arctic, collected scientific data and water samples for U.S. and Canadian
> Universities as part of an agreement with the Artic Submarine Laboratory
> (ASL) and the National Science Foundation (NSF). USS Honolulu is the 24th
> Los Angeles-class submarine, and the first original design in her class to
> visit the North Pole region. Honolulu is as assigned to Commander
Submarine
> Pacific, Submarine Squadron Three, Pearl Harbor, Hawaii. U. S. Navy photo
by
> Chief Yeoman Alphonso Braggs. (RELEASED)
>
>



---

jdbutler Friday Apr 9 03:07 PM

photo
by
> Chief Yeoman Alphonso Braggs. (RELEASED)

Wonder if the bears got a whiff of the contents dumped in the yoemans pants?

---

xoxoxoBruce Friday Apr 9 08:16 PM

Damnedest looking whale they ever saw.

---

francesthemute Monday Mar 21 10:20 AM

That picture was taken by my Chief, Alphonso Braggs. This was what they call an ICEX that was done right after I got out of the Navy. That's one thing I have to give Chief Braggs....he ALWAYS had his camera ready and those shots have to be the best he's ever taken. Not sure why they surfaced but every once in awhile subs will come up if they are not on a "mission" just to rig the bridge and let me people go up and see some sunlight and catch some fresh air.

---

LabRat Monday Mar 21 10:25 AM

I love the second one where (s)he's looking into the water. Wonder what (s)hes thinking...

---

Undertoad Monday Mar 21 10:34 AM

Hey francesthemute, thanks for popping in and thank you for your service. We have another submariner on here so you're not alone. Those ARE great shots!

---

dar512 Monday Mar 21 02:43 PM

Quote:

Originally Posted by LabRat

I love the second one where (s)he's looking into the water. Wonder what (s)hes thinking...

I can't tell for sure, but from the stance, I assumed that it was a she - whizzing on the sub.

---

mrnoodle Monday Mar 21 04:55 PM

She's thinking, "mmm. sardines"

---
Your reply here?

The Cellar Image of the Day is just a section of a larger web community: a bunch of interesting folks talking about everything. Add your two cents to IotD by joining the Cellar.