Undertoad Friday Apr 16 09:18 AM

4/16/2004: Albino micro bat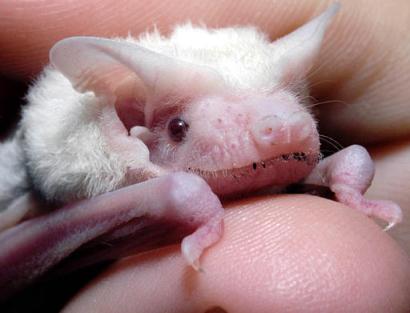 Ladies and Gentlemen, it's the albino micro bat! Official cap:

One of the rarest bats in the world, a completely white (albino) micro bat, nestles on the thumb of carer Pam Tully while recovering from a cat attack at the Batreach Bat Rescue and Rehabilitation Centre at Kuranda, near Cairns in northern Australia, Sunday, March 14, 2004. The bat, a Little Northern Freetail nicknamed 'Starshine', is now in recovery and at four months old, weighs just 6 grams - less than a quarter of a ounce. Little or no research has been done into albinoism in bats, with discovered examples almost none existent.

Rare sure enough, only two other images turned up in a Google search: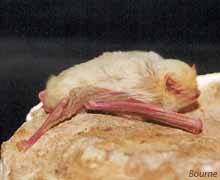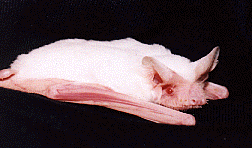 Still, I want one.

---

jdbutler Friday Apr 16 09:49 AM

Only 6 grams? Hardly worth getting the bong out of storage.

---

Cochese Friday Apr 16 10:03 AM

Starshine? Damn dirty hippies.

---

Undertoad Friday Apr 16 10:08 AM

Good catch jd - the caption writer said

"weighs just 6 grams - less than a quarter of a ounce"

...you gotta figure they hadda know the conversion in their head.

---

xoxoxoBruce Friday Apr 16 06:58 PM

Nice pics, UT.
I wonder if it echolocates with white noise?

---

Pi Sunday Apr 18 05:28 PM

How does it taste?

---

Leah Sunday Apr 18 05:56 PM

CUTE. The poor little thing looks so helpless.

---

Troubleshooter Monday Apr 19 08:40 PM

Quote:

Originally posted by Pi
How does it taste?

Like chicken?

---

Sun_Sparkz Monday Apr 19 09:54 PM

Cats. i cant stand people who keep cats and just let them roam the neighbourhood killing all the wildlife they can get their little paws into.

If you want a cat (i cant understand why) keep it in your damn house!! they are callous murderers!!

---

Lady Sidhe Tuesday Apr 27 09:06 AM

I had a bat as a pet, once....brieflly. It was a baby fruit bat that I saved from, yes, a cat attack. I fed the little critter and made sure he was ok, then put him in an old-fashioned birdcage outside. He decided he felt better, squoze (yeah, I know "squeezed" is the past-tense of squeeze, but I've been using squoze forever....it just sounds better) through the bars, and flew away.


Of course, I was only about seven or eight at the time. I had no idea that bats can carry rabies, sometimes without being affected (so I've read, I could be wrong--and I don't think fruit bats carry rabies...only carnivores can carry rabies, right? Someone correct me if I'm wrong). It probably wouldn't have made a difference, considering how animal-crazy I was as a kid. It was interesting while it lasted, though.

Considering the mosquitoes in Louisiana, I'm thinking about putting up a few bat boxes in the front yard. It would be an all-you-can-eat buffet for them around here in the summer.

Sidhe

---

wolf Tuesday Apr 27 10:41 AM

Non-Carnivores can certainly have/carry/transmit rabies.

There was a rabid horse put down in Chester County only a couple years ago.

It's less common in noncarnivores, but not nonexistent.

Not Quite Everthing You Ever Wanted to Know about Rabies.

---

Lady Sidhe Tuesday Apr 27 03:27 PM

A rabid horse?! *trying to imagine Cujo as a horse* That's probably the most unusual animal I've ever heard of getting rabies. I did some research and it said that ANY mammal can get it.

Speaking of which, I once had a dog that got rabies. Poor thing...and his behavior was quite unusual. He wasn't aggressive, but he did his best to avoid everyone, only growling when anyone got near him. He also foamed at the mouth, an extreme salivation. He died the same day. I found out later that not all animals become vicious, that it's more of a psychotic reaction to sound that makes them attack.

What a horrible disease. Especially for an animal who doesn't have any idea of what's happening.

I commented on rabies because two people I know have recently been possibly exposed. One got the series of post-prophylactic shots, and the other (TS) getting a tetnus shot tomorrow.

We have a psycho cat that hangs around our house. I say psycho because he'll let you pet him for days, with no problem, but will be hissing at you the whole time (?)...then, out of the blue, he'll attack your hand with teeth and claws. He's been hanging around for a while, and he eats like a pig; since rabies causes trouble swallowing, I don't think he's infected. I think he's just psycho. We might end up having to call animal control, though, to make sure. I don't like the idea of killing the animal unnecessarily, because if he's just nutty, it's not his fault, and he shouldn't die for it. But TS is a bit more important to me than a stray....

Sidhe

---

wolf Wednesday Apr 28 11:24 AM

Rabid animals don't always show the obvious signs (photophobia, frothy drool, transition of charming household pet into psychotic killer).

If you've been bitten/clawed by a stray your best bet is going to be to trap it, and take it in for testing. Your alternative is to start the series of shots now.

I know several people in this area who had to go through the shots because the strays couldn't be captured.

---

Lady Sidhe Wednesday Apr 28 11:40 AM

I was reading up on human rabies, and since TS is almost healed, I think he's safe. He's getting a tetnus shot today, though. There's none of the redness, pain, or swelling that they tell you to watch out for. We're going to keep an eye on it, AND the cat, though.

If it were up to me, he'd get the series of shots, but he doesn't seem to feel as if it's necessary.


Sidhe

---

BigV Friday Feb 11 05:18 PM

Don't like rabies shots? How about a nice little coma instead?

/Gulp/

http://www.freerepublic.com/focus/f-news/1289100/posts

---
Your reply here?

The Cellar Image of the Day is just a section of a larger web community: a bunch of interesting folks talking about everything. Add your two cents to IotD by joining the Cellar.