Undertoad Saturday Oct 6 02:52 PM

10/6: Caribbean Tree Frog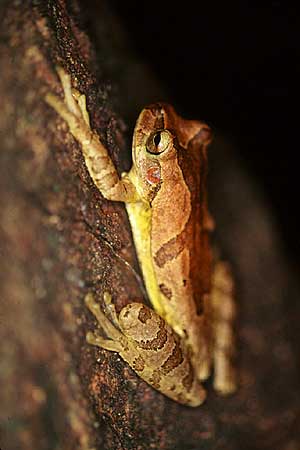 The EPA has given Hawaii the OK to use caffeine for pest control purposes to manage the population of caribbean tree frogs, one of which is pictured above.

It's according to this story, which will probably not be a good link in a few days. The story basically explains that the frog is tiny - about the size of a dime- but chirps at 90 dB. Unfortunately that doesn't tell us anything since we need to know at what range those dBs were measured, but I guess they wouldn't want to do away with the little buggers if they produced pleasant cricket sounds. The story also notes that there can be up to 10,000 of them in an acre. It doesn't say if they have a natural predator in Hawaii.

The story notes that the caffeine kills the frogs outright by stopping their heart. That's ironic, since I use caffeine to START my heart every morning.

The story also says that Puerto Rico opposes the frog destruction, because these same frogs are beloved on that island. How can one island love the frogs and another hate them? Could they maybe trap the critters instead and ship them to P.R.?

A more interesting page is the page where I found the above image. The page is called "Tropical Ecosystems of Costa Rica and Panama", with photos and Quicktime movies of geography, insects, primates and other critters from that region. It's all from field study from summer trips to the area, conducted by profs at Miami Ohio. You might see other images from there pop up here from time to time because some of them are just too good to pass up. It's things like this that make me think I would have taken a much different set of courses if I had college to do over. The world, it turns out, is a fascinating place.

---

jet_silver Sunday Oct 7 10:45 AM

Reasons to get rid of those frogs

Hawaii already has a small lizard called the gecko occupying that niche. Geckos are really pleasant to have around, and their call is a quiet "chik, chik, chik". Hearing that means another annoying insect has become lunch.

A tiny frog that carries a Sonalert would be very unpopular in the Islands. The history of Hawaii is full of examples where imported fauna drive out the existing ones, and usually icky things drive out neat things, so that's why the eradication will be popular.

---
Your reply here?

The Cellar Image of the Day is just a section of a larger web community: a bunch of interesting folks talking about everything. Add your two cents to IotD by joining the Cellar.