Undertoad Thursday Oct 11 01:34 PM

10/11: Python and Pit Bull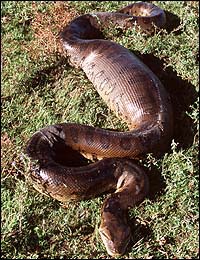 Guy decides he likes vicious and difficult pets. So he buys a python AND a pit bull. And now he has only one of them left.

The pit bull weighed 30 pounds.

The only solution for this, I believe, is for the guy to be put into jail... with a python. Not his python, but a rather larger one, from the Amazon. A hungry one. The guy can only go without sleep for so long...

---

dave Thursday Oct 11 02:07 PM

As a snake enthusiast, I feel I must reply to this (and in doing so, return from my nearly week-long absence - more on this later).

The guy is an idiot. More likely though, he was neglecting the snake. It actually appears to be an anaconda, but it could be a burmese or reticulated python as well... anyway, the snake was likely RAVENOUS because (trust me), they don't eat if they're not hungry. I've owned 4 pythons and 1 boa constrictor and they simply *will not eat* if they're not hungry.

Also, while it's likely that a large anaconda could kill him, it's highly unlikely that it could actually eat him. Most of the pictures you see where it's claimed "man eaten by huge snake" are false - in reality, a 20 foot anaconda will eat a boar, and they'll hype it up and go "30 foot anaconda eats human"... uh, no. AFAIK, there are no known records of any snake fully consuming a full-grown adult.

Regardless, they have been known to eat dogs when they're hungry. Such is life. I have 6 rats and they're awesome. I don't like the fact that the ones in pet stores are generally snake food, but you can't do much about it either...

---

ChrisD Thursday Oct 11 06:07 PM

human eating snakes

Just thought I'd chime in on this one. I saw a series of pictures a while back of a a snake that had eaten a full grown man. The pictures were all there was, no captions or story. First picture: Bloated snake. Second picture: villagers cutting it open with a machete. Third picture: Curled up body of full grown man, somewhat digested (mostly slimy looking) with villagers crying in background. Defintely didn't look fake. Sticks with me to this day.

cd

---

dave Thursday Oct 11 09:58 PM

i've seen those too. the analysis (from the experts, not me): fake.

they simply cannot stretch enough to take a full grown man. also consider: snakes eat their food head-first (as in, they start at the head and swallow whole) - how would one get over the SHOULDERS?

---
Your reply here?

The Cellar Image of the Day is just a section of a larger web community: a bunch of interesting folks talking about everything. Add your two cents to IotD by joining the Cellar.