Undertoad Monday May 24 12:37 PM

5/24/2004: Naked rollercoaster ride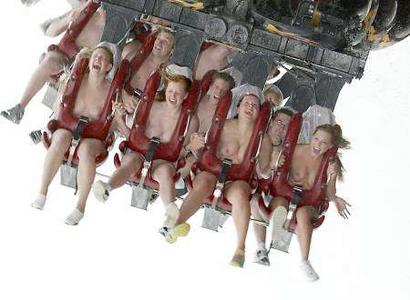 A few people sent this along. Not unexpected since it's perfect IotD material.

These are students, riding the 'Nemesis Inferno' rollercoaster at Thorpe Park in Surrey, in an attempt to break the world record for the most amount of naked people to ride on a rollercoaster. The group successfully set a new official world record with a total of 81 volunteers.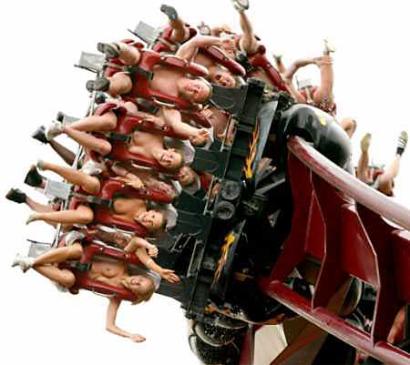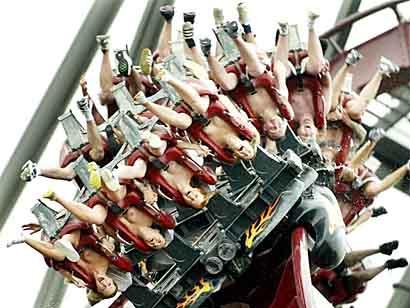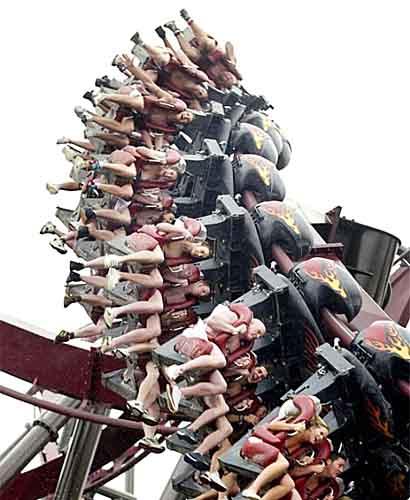 Of course the logistics of this are important to consider and it looks like they thought ahead and provided TOWELS to sit on. Good work.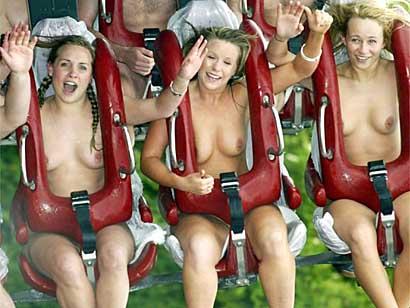 ---

YellowBolt Monday May 24 02:51 PM

Is there a reason why most of the naked people happen to be women?

---

Yelof Monday May 24 02:59 PM

A lot of the rows to the rear are men, but the women in the front are the ones the photographer decided to concentrate on for some reason

---

lumberjim Monday May 24 03:11 PM

ARE YOU REALLY NAKED IF YOU HAVE YOUR SHOES ON?

I appreciate that they seated those girls up front. who wants to see man parts? not even women......especially scared man parts. with shrinkage, and all......ya know.

---

stlbob Monday May 24 03:11 PM

Quote:

Originally posted by YellowBolt
Is there a reason why most of the naked people happen to be women?

The bar between the legs might have a tendency to scare off some of the guys I would think.

---

xoxoxoBruce Monday May 24 09:47 PM

I notice they covered the seats.

---

richlevy Monday May 24 10:06 PM

Quote:

Originally posted by stlbob


The bar between the legs might have a tendency to scare off some of the guys I would think.

It does sort of look like a super-size chastity belt.

---

chrisinhouston Wednesday May 26 11:28 AM

So just how does a group get on a ride naked? I mean was this a prearranged private ride or did they just strip in line or when they were getting seated?

Somehow I could only picture this happening in the USA in some place like San Francisco. I was once walking across Union Square and had a group of about 30 naked bicyclist ride by, only wearing shoes and helmets.

You'd probably get the death penalty in Texas for this, it's our most popular form of punishment

---

jaguar Wednesday May 26 11:47 AM

There was an afterwards pic with this when it was on fark with them all in white dressing gowns.

Course they`re going to photograph the women more, it`s like magazines, ever notice both mens and womens magazines have almost-naked girls on them.

Sometimes I wonder why I`m not more interested in `fashion` photogaphy

---

beeringo Saturday Jun 5 08:20 PM




YAY!
I found another site with me in it! I was one of the students on that rollercoaster, was an awesome experince, we got a free day at the park, thing is, once you've ridden the craziest rollercoaster naked the rest of the park is a bit lame....
Anyway, the reason why it looked like there were more females is cos they put a row of the fittest at the front for the photographers! Im in the second row far left, u cant see much of me really...
They covered the seats in plastic (almost bin-liner like) material.
Finally, these restraints weren't that bad, its was when they strapped us in was the worst bit - they slammed that bar down a bit too hard...
oh oh and we got to keep the dressing gowns


any more questions?

---

xoxoxoBruce Saturday Jun 5 08:30 PM

Hey, wecome to the Cellar beeringo.

That thing looks like it moves pretty fast, was it chilly? Oh, and our left or the riders left?

---

beeringo Sunday Jun 6 05:11 AM

oh sure it was chilly, we had to be there at 8.30 before the park opened so it wasnt the warmest of times. And just to take the p*ss the rest of the day was sunny...:p
I was 2nd row, far left as in the riders left. Thing is there were 82 of us and the ride only took something like 28, so they had to do lots of consecutive rides so i'm not in all the photos... i'll try and attach one to this post that my mate found...

---

xoxoxoBruce Sunday Jun 6 09:47 AM

Cool, but isn't that the rider's right?

---

beeringo Sunday Jun 6 11:41 AM

heh, lol it would appear so, but upon closer inspection the picture's mirrored cos the guy in the front i know was actually on the other side :p

---

Undertoad Sunday Jun 6 11:58 AM

Yup, the second shot on the page is your run then, and it has the gent on the viewer's left.

So your run included the babes in the three-shot closeup! You sat behind Gwyneth Paltrow!

I can imagine a similar run where there are two to a seat.

My girlfriend in college had a sign outside her dorm room door: You Must Be At Least This Tall To Ride This Ride

---

beeringo Sunday Jun 6 05:24 PM


IDEA!
Thats going on my door!

....
....
....

well at least it would do if i could afford ink cartridges for my printer. Damn Uni fees! damn you to hell! (well that and the excessive drinking...)

---
Your reply here?

The Cellar Image of the Day is just a section of a larger web community: a bunch of interesting folks talking about everything. Add your two cents to IotD by joining the Cellar.