Undertoad Tuesday Jun 22 01:03 PM

6/22/2004: Grounded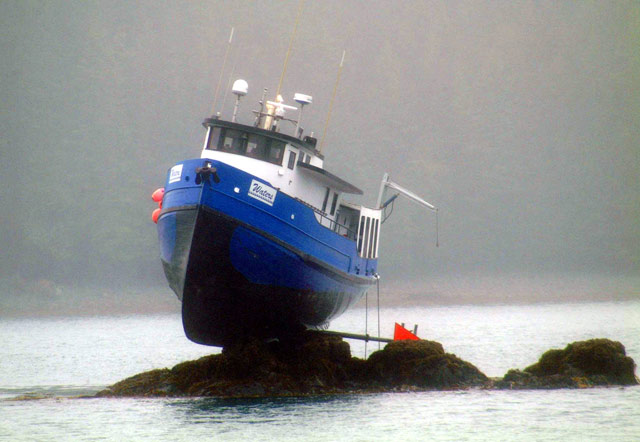 It must take some hard work to get something this large so perfectly balanced. This shot doesn't show the size here - this little Alaskan boat is actually a 70 footer, ironically named "Waters". That thing it's sitting so perfectly on top of is a navigational beacon. The crew abandoned ship and waited for high tide to float it again.

---

glatt Tuesday Jun 22 01:21 PM

cool picture

---

chrisinhouston Tuesday Jun 22 02:02 PM

Wow, I thought they may have actually found Noah's Ark on Mt. Ararat!

---

jaguar Tuesday Jun 22 02:16 PM

Boy are they going to get shit back at the pub.

---

wolf Tuesday Jun 22 02:43 PM

I don't see the problem. I mean, hey, they FOUND the navigation beacon they were looking for, right?

And with the global warming they keep warning us about, shouldn't be more than a couple days before the sea level rises high enough to float that bad boy right off of there.

---

GuyNamedGuy Tuesday Jun 22 04:15 PM

Absolutely hilarious.

How many tons of boat balanced on that small an area? There's no hogging or flexing of the boat.... pretty well built. So is the navigation marker, come to think of it.

---

Undertoad Tuesday Jun 22 04:40 PM

The Coast Guard main site has this photo today, and further text:

"The vessel struck the number four dayboard when it grounded on a rock in Narrow Strait north of Kodiak Island near the village of Ouzinke early this morning. A dayboard is a navigational beacon that clearly marks the channel when navigating in a restricted waterway."

The CG site also has a larger version of the image and I've replaced the one in the post with the better version. (Shift-reload or whatever it is you do to remove the old one from cache.)

---

xoxoxoBruce Tuesday Jun 22 05:00 PM

It couldn't have been very windy or it would have toppled over.

---

glatt Tuesday Jun 22 05:03 PM

I'm reminded of the story of the USS Philadelphia, which ran aground while winning a battle off the coast of Tripoli. Was captured, and later destroyed. It's a good yarn.

---

jojomonkeygirl Tuesday Jun 22 05:13 PM

Ok everyone...try saying TOY BOAT three times real fast.

---

Guess Tuesday Jun 22 10:33 PM

i wonder how the crew got off the boat
it looks kinda hard

---

lumberjim Wednesday Jun 23 12:20 AM

i'm sure they were out of the boat in dingies long before it got completely exposed.

---

tw Wednesday Jun 23 12:28 AM

So you think they had a bad day. Then explain the mistake made by a Northwest airliner that accidentally landed at a top secret Air Force base in SD. I believe that is a nuclear bomber base.

---

York Friday Jun 25 07:08 AM

Damn monkeygirl, is it because im european or is it really that hard?

---

Undertoad Friday Jun 25 07:16 AM

rubber baby buggy bumper

---

York Friday Jun 25 07:50 AM

no probs with that one!

---

xoxoxoBruce Friday Jun 25 06:49 PM

Quote:

Originally posted by York
Damn monkeygirl, is it because im european or is it really that hard?

It's really hard.

---
Your reply here?

The Cellar Image of the Day is just a section of a larger web community: a bunch of interesting folks talking about everything. Add your two cents to IotD by joining the Cellar.