Undertoad Tuesday Oct 30 02:29 PM

10/30: Wierd new Ford vehicle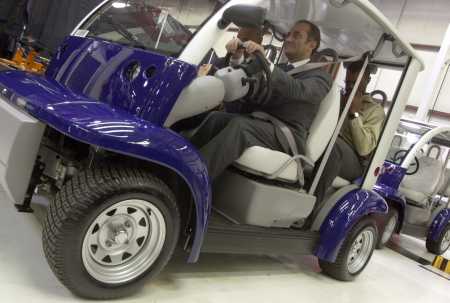 I picked this image up at 8pm thinking it was borderline, then at 11pm the driver there - Ford CEO Jacques Nasser - was rumored to be dismissed. I guess that pushes it over the edge.

But it's still the vehicle that interests me. It's called "Think Neighbor" and Nasser is driving the first one off the assembly line. It's entirely electric, aimed at "golfers, residents of gated communites and towns with streets with a 25 mile an hour speed limit and college students and faculty who need transportation around campus."

Okay. But here's the strange part: it comes in a two-seat model that starts at $6000, and a four-seater with a full array of options can cost more than $8000.

$8000 for a 25mph golf cart? Is this what got the guy fired? How many of these can they possibly sell? Is it me or is it him? It's him, isn't it?

---

dave Tuesday Oct 30 03:02 PM

OT: no offense, but s/wierd/weird/

OnT: ha. ha ha. hahahahahahahaha. hahahahahahahahahahaha. hahahahahahaha. *and* you'll have to charge it, which means it'll be nice and expensive to maintain, too!

s/Think Neighbor/Think Edsel/

hahahahahahahahahaha.

---

warch Tuesday Oct 30 03:31 PM

Quote:

How many of these can they possibly sell? Is it me or is it him? It's him, isn't it?

He's seen Sun City, AZ. Their legions are many. He's toured the complex and perhaps he will now move in.
Just B]think[/b]Neighbor, I can see organized racing. Road rallies. I can see a souped up $20,000. model with leather, custom paint, hoppin' shocks and sound system pumping out Perry Como of course.

---

Whit Tuesday Oct 30 05:44 PM

Hmm, ya know...

I've seen a few pics of new vehicles coming off the line. The thing is, isn't there normaly a few line workers in the background? Just seems like it was SOP to show a few grunts in the back... I may be wrong about that as I'm working purely off memory.

Of course, they may have opted out of the pictures...

---

Undertoad Tuesday Oct 30 06:11 PM

It reminded me of that "It" which should be coming out next year. People speculate that will be some sort of cheap and clean transportation. Maybe the car companies are thinking they have to be on their toes with new vehicles.

---

Joe Tuesday Oct 30 07:20 PM

Haven't these been out for at least a year?

There are a few on my college campus, in use as official vehicles, presumably to give the nod to alternative energy transportation.

The ones I see are two-seaters, with the same distinctive quarter-circle windshield design and no sides or doors. The one behind the guy in the picture shows the windshield better.

What are they saying is new about these ones?

We also have these cute electric pickup trucks called "Electrucks". Same idea, but with about a 4'x6' bed for light hauling. See those here:

http://www.taylor-dunn.thomasregiste...dunn/et150.htm

From what I've observed, all these cars/trucks may only go 25mph but they move "smartly", accelerating relatively fast. They seem like a step in the right direction, though not quiet ready for prime-time unless you really have a need, ie are a university or large-campus corporation.

---
Your reply here?

The Cellar Image of the Day is just a section of a larger web community: a bunch of interesting folks talking about everything. Add your two cents to IotD by joining the Cellar.