Undertoad Tuesday Nov 6 03:24 PM

11/6: Mothballed jets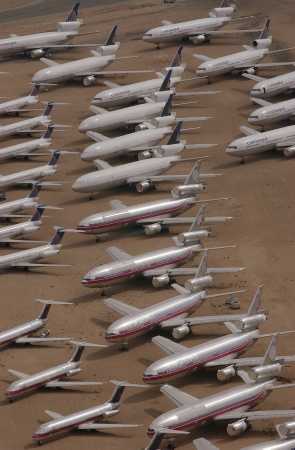 A bunch of mothballed jets sit quietly at the Mojave Airport in Mojave, California. I hadn't thought what happens to jets when they aren't being used for flights, but this makes sense; you can't just park them at gates and they take up a lot of room.

I really wish this image were larger, not cropped so harshly... I looked around breifly for better images on the net, but couldn't find anything.

---

tw Tuesday Nov 6 05:53 PM

Re: 11/6: Mothballed jets

Quote:

Originally posted by Undertoad
A bunch of mothballed jets sit quietly at the Mojave Airport in Mojave, California.

My quess are Boeing 727s and Lockheed L-1011 Jumbos. Some of those L-1011s look like they were cargo jets - no windows.

---

node Tuesday Nov 6 07:45 PM

I've heard about this place before, though obviously the shot with so many planes mightn't have been possible pre-September 11th. They've also got "dead" planes there just falling into disrepair, though they don't rust or anything because (as far as I know) the air is so very, and permanently, dry there, which is why planes that aren't in use are grounded at this tiny air strip.

Pete

---

lisa Wednesday Nov 7 12:38 AM

Here's another pic<BR CLEAR="ALL">
<IMG SRC="http://www.cellar.org/attachment.php?s=&postid=5192">

---

juju2112 Wednesday Nov 7 03:24 AM

This is a little off topic, but <a href="http://www.airdisaster.com/">airdisaster.com</a> has wav files of <a href="http://www.airdisaster.com/cvr/"">actual cockpit voice recorders</a>. It's REALLY creepy. So, if you're easily creeped out, don't go there.

But still, even though i was weirded out for several days after hearing these, I still found them really interesting. I'm not sure what freaks me out more... the actual recordings, or the fact that I see them as interesting.

---

jaguar Wednesday Nov 7 03:44 AM

Hm airlines here have jsut enough aplnes that they can take about 2 outo service at any time without disrutpions...
Not sure if all that very expensive hardware belongs to one company but..
fawk

---

Slight Wednesday Nov 7 04:16 AM

The planes in the first picture look like toys to me.




This picture reminds me of the mothballed B-52's in the Beastie Boys video Something's Got to Give. They are part of the Aerospace Maintenance and Regeneration Center at the Davis Monthan AFB in Tucson put there because of the STrategic Arms Reduction Treaty and the end of WWII. According to the START each B-52 is classified as 10 or 20 warheads (depending on who you ask) and is legaly destroyed when the tail is cut off. They used to be destroyed with a giant razor blade (no joke.) The destroyed plane must be left on the ground for 90 days so that Russian satallites have a chance to verify the destruction! The deadline for destruction is 2001.

Planes mothballed there are sprayed with a strechy substance called spraylat which protects the sensitive parts (windows, engines) and helps keep out little creatures. The fuel tanks are filled with oil. The desert is ideal because of little rain, the soil is alkaline and hard, so no concrete needs to be poured. Planes are tested every 4 years and planes have been returned to service after as long as 15 years. There are different classifications ranging from "scrap" to "keep functional."

Cool Link

Good Info on AMARC and START

Good article on CNN

---
Your reply here?

The Cellar Image of the Day is just a section of a larger web community: a bunch of interesting folks talking about everything. Add your two cents to IotD by joining the Cellar.