Undertoad Wednesday Jul 28 02:28 PM

7/28/2004: Solar filament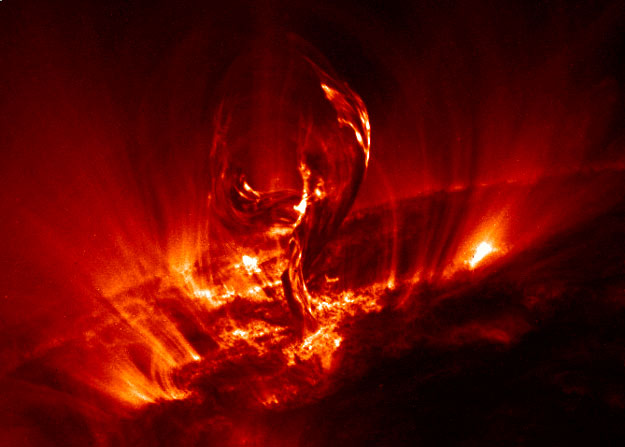 This was an Astro Pic of the Day a few days ago. I can't get enough of images the sun doing crazy things. This solar filament is, like the solar promience we had a while back, a kind of gaseous solar eruption.

The APOD says "The filament, although small compared to the overall size of the Sun, measures over 100,000 kilometers in height, so that the entire Earth could easily fit into its outstretched arms." I don't know whether that's true, just reporting what they say in the caption.

---

SteveDallas Wednesday Jul 28 02:39 PM

Well then you oughta have one of these for your back yard!!

http://www.coronadofilters.com/cgi/d...log.cgi?item=4

---

Happy Monkey Wednesday Jul 28 02:42 PM

Beware the body thetans!




I can't photoshop the Earth into the Sun picture, so I'll have to settle for Hubbard.

---

Cyber Wolf Wednesday Jul 28 03:28 PM

That's a SPICY meatball!

---

ladysycamore Wednesday Jul 28 03:43 PM

Quote:

Originally Posted by Cyber Wolf

That's a SPICY meatball!




That pic is amazingly AWESOME!

---

dar512 Wednesday Jul 28 05:09 PM

Quote:

Originally Posted by Undertoad

[snip] a kind of gaseous ... eruption.[snip]

*Must control urge to make fart jokes......*

---

jaguar Wednesday Jul 28 05:13 PM

I'm amazed noone has actually said it looks exactly like a demon rising and looking straight at you. Freaks me out.

I've heard recently that there is a massive sunspot forming at the moment and there is a growing fear of a massive solareruption soon. Good luck if you use sat net connections. Or your phone gets routed over them, or you use a news service that uses them or.....aw hell we're all screwed.

---

panenka Wednesday Jul 28 05:33 PM

Well, if you want more impressive images from the TRACE satellite, just go to this link link, there are plenty and you can choose.

Other nice images are taken from SoHO, here. Check the Gallery section.

You can find movies in both.

What about this famous one? Link


What you see is the gas outlining the magnetic field lines. Like the iron filings and the magnet in an experiment at school.
School? Sorry, I stop here.

---

Leah Wednesday Jul 28 05:44 PM

Great picture, there definitely are some strange things happening up there.


---

Archer Wednesday Jul 28 07:10 PM

If NASA, ESA, et al want more funding, all they need to do is make more movies like <a href="http://soi.stanford.edu/results/SolPhys200/Schrijver/movies/rain.mov">this</a>. Link goes directly to the movie from panenka's link.

Just friggen amazing.

---

xoxoxoBruce Wednesday Jul 28 08:16 PM

Bubble, bubble, toil and trouble.....

---

footfootfoot Thursday Aug 19 08:27 PM

cosmic?

Well, this is not a sun, nor is it my son, but it is somewhat cosmic...

---

xoxoxoBruce Thursday Aug 19 09:01 PM

It's LJ's son.
Welcome to the Cellar, 3foot.

---

footfootfoot Friday Aug 20 06:31 PM

Thanks xo3 bruce.
I have to research "el Jay"

---

footfootfoot Friday Aug 20 08:01 PM

LJ=lumber jim...
D'oh!

never mind.

---
Your reply here?

The Cellar Image of the Day is just a section of a larger web community: a bunch of interesting folks talking about everything. Add your two cents to IotD by joining the Cellar.