Undertoad Monday Aug 9 12:52 PM

8/2/2004: 9 pound burger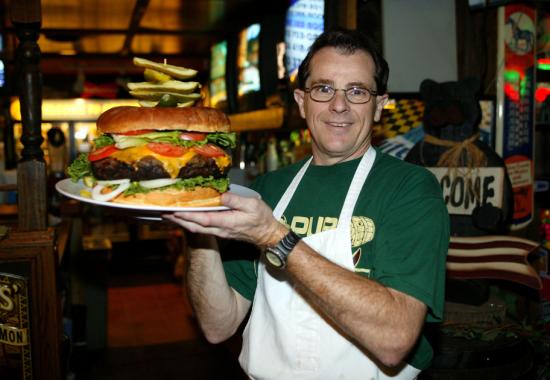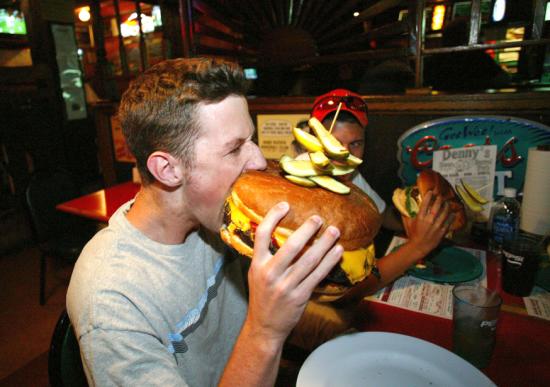 ---

xoxoxoBruce Monday Aug 9 03:59 PM

FromDenny's Pub in western PA. The picture is the 96er, 6 pounds of burger with 3 more ponds of accoutrements.

---

Trilby Monday Aug 9 04:06 PM

Ya know, I was hungry--not anymore.

---

lulu Monday Aug 9 07:22 PM

I'm speechless. Seriously, how long do they cook that thing for? And a three hour time limit to finish? *cracks up laughing*



Now I want a cheeseburger

---

Trilby Monday Aug 9 07:36 PM

Ok-a Cheeseburger with Chocolate Cheesecake for dessert?

---

lulu Monday Aug 9 07:41 PM

Quote:

Originally Posted by Brianna

Ok-a Cheeseburger with Chocolate Cheesecake for dessert?

Oh man! I just responded in another thread (I think?) Tiramisu. But chocolate cheesecake would so rock at the moment.

---

wolf Tuesday Aug 10 11:30 AM

I still say slang could do it ...

---

xoxoxoBruce Wednesday Dec 15 07:27 AM

I got an email refering to another article about this burger. It has a nutrient table that's scary.

---

Undertoad Saturday Jan 15 09:18 AM

OMG, it has been et!


Quote:

CLEARFIELD, Pa. (AP) - A 100-pound female college student is the first to meet the Denny's Beer Barrel Pub challenge: down the restaurant's six-pound hamburger - and five pounds of fixins' - within three hours.

Kate Stelnick, 19, of Princeton, N.J., made the five-hour drive with two friends from The College of New Jersey on Wednesday, after they saw pictures of the monster burger, dubbed the Ye Old 96er, on the Internet and on TV's Food Network.

"I just saw it on TV and I really thought I could do it," Stelnick said, after downing the burger in two hours, 54 minutes.

Stelnick didn't eat for two days to prepare for the challenge. "I felt very full, but I was too excited that I actually ate it to notice," Stelnick said.
---

footfootfoot Saturday Jan 15 11:46 AM

HA beaten by a GIRL!!! <--- not really trolling for flames, just had to say it.

---

xoxoxoBruce Saturday Jan 15 03:12 PM

Quote:

Originally Posted by footfootfoot

HA beaten by a GIRL!!! <--- not really trolling for flames, just had to say it.

But of course....they are the big consumers after all...they've even been known to consume their mates.

---

breakingnews Saturday Jan 15 03:23 PM

Of Princeton, NJ, no less ... gotta be proud of them central Jerz natives. Good appetites in the garden state.

---

russotto Monday Jan 17 10:50 AM

She's now a 111 pound college student. Or she was shortly after finishing. I don't imagine the weight stayed with her for long...

---

richlevy Monday Jan 17 05:47 PM

Why don't you take my friend out to dinner? She eats like a bird - an Ostrich!




Quote:

[Connie gulps down an entire sub sandwich]
Ronnie: [impressed] Wow! My Mom's the only other woman I know who can eat a sub like that!
Connie: [pointing at Ronnie's sub] You going to finish that?



---

chrisinhouston Monday Jan 17 09:48 PM

Hey, if you drive through Amarillo try the Big Texas, Home of the 72 Oz Steak

http://www.bigtexan.com/72oz.html

---

xoxoxoBruce Monday Jan 17 11:46 PM

They will send you (uncooked) that 72 oz steak for $72. That ain't a bad deal.

You get in 3 days with an apron and seasoning.

---

breakingnews Tuesday Jan 18 06:08 PMOh hell yeah, we totally drove past that sign going through Texas on the way to Albuquerque. I was tempted to stop ... but we ended up at a taco cabana somewhere else.

Doesn't Julie's Steakhouse in willow grove have some serious fuckin' steak too? Like a 120-ouncer or something like that? I know they have something in the 60-70 ounce range on their menu,

Arthur's Steaks in Hoboken, NJ, where I had dinner on Saturday night, has only two cuts of sirloin: 24 oz and 48 oz. $20 and $30 too, which is a fantastic deal. Must order Pittsburgh rare - it's faaaabulous.

---

dar512 Tuesday Jan 18 07:29 PM

The 9 pound burger story made the radio here in Chicago this morning. I woke up to it.

---

LabRat Friday Jan 21 03:14 PM

the girl who are that was on good morning america this morning, but unfortunately i missed it. i would have loved to hear her talk about it! they had the burger (well, one like it, smartass) sitting on the newsdesk, holy crap it's big. anyone see the interview?

---

Happy Monkey Friday Jan 21 09:28 PM

Whatever piece of furniture a 9lb burger is sitting on does not deserve to be called a newsdesk.

---
Your reply here?

The Cellar Image of the Day is just a section of a larger web community: a bunch of interesting folks talking about everything. Add your two cents to IotD by joining the Cellar.