Undertoad Sunday Nov 11 11:24 AM

11/11: Human tongue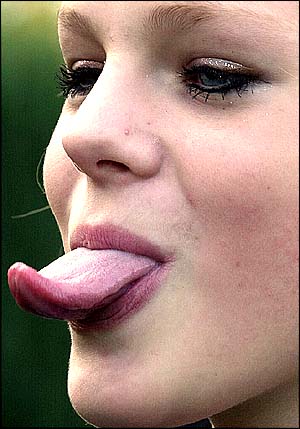 They say this person has the longest recorded tongue, not Gene Simmons.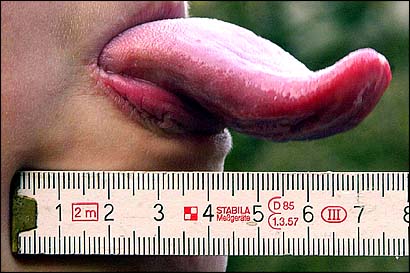 Of course the importance of a consistent measuring methodology is important.

---

dave Sunday Nov 11 03:07 PM

oh.

my.

god.

that's a pretty goddamn long tongue.

i wonder if that mostly fills up her mouth? if there's an added concern that she might one day swallow her tongue? geez.

---

jaguar Sunday Nov 11 04:39 PM

This was in the local rag the other day. Fawk she'd take tonsil hockey to a whole new level.

---

plool Monday Nov 12 05:27 AM

Another picture

Found another picture, this one seems to show 'it' off a little bit more.




In fact, here's an articel about it. Kind of interesting.

http://news.bbc.co.uk/cbbcnews/hi/wo...00/1646912.stm

---

scampo Monday Nov 12 10:58 PM

Eeek!

---

dynoman7 Wednesday Nov 14 10:59 AM

Does anyone...

...have her phone number? lol

---

dave Wednesday Nov 14 12:06 PM

Re: Does anyone...



eew, man. eew.

---

aofl Wednesday Nov 14 01:59 PM

Well, she may be twelve, but does anyone know if she's made any tongue based career decisions? If not, I'd like to try to influence her choice of career path into more tongue related fields, once she's of age, of course..:p

---

dave Wednesday Nov 14 02:53 PM

in other words...

she's gonna make a fortune in the porno industry in about 6 years...

---

Whit Wednesday Nov 14 05:20 PM

Sigh...

Well, I was proud of the celler for not going into that...

Ah well, I knew it was inevitable. I guess I should just be happy it went as long as it did before this thread went straight into the potty.

---

Undertoad Wednesday Nov 14 06:26 PM

It coulda been worse - we could have fallen into that with the GIRAFFE tongue picture.

---

dave Wednesday Nov 14 06:38 PM

yeah. i was waiting to see how long it would take. not that i had any thoughts like that (she's TWELVE!), but yeah... it wasn't me - i was just restating what someone else said

it was all dynoman and aofl...

but anyway... that IS a damn long tongue

---

Whit Thursday Nov 15 02:57 AM

Ya know, the funny part is that the lewdness didn't phase me. It's just the porn jokes were too easy. Don't get me wrong, I had similar thoughts to those posted, I just wouldn't say it.

Also, I didn't know she was twelve when I saw the first pic. I doubt any of the others did either. We just saw some chic with one heckuva tongue. The jokes were obvious. It could be worse I suppose. Someone could've asked if she was a 'special friend' to the Olson Twins...

Wow, I really shouldn't post when I should be sleeping... oh well.

---

blowmeetheclown Thursday Nov 15 09:10 AM

12 or not...

she's still damn cute!

---

classicman Sunday Jan 18 09:10 PM

Bump -

Amazing the things you find perusing the IotD

---

lumberjim Sunday Jan 18 09:13 PM

she's 20 now......

---

monster Sunday Jan 18 09:16 PM

..hey, and she's 19 now.....

---

monster Sunday Jan 18 09:16 PM

pah, i took too long to post, but I did better math, chances are she's still only 19......

---

classicman Sunday Jan 18 09:18 PM

great minds think alike and all that

---

monster Sunday Jan 18 09:38 PM

idiots seldom differ.....

We prolly need to coin a new epithet... "dirty minds think alike"

---

Wickedly_Tasteful Sunday Jan 18 09:51 PM

i could definetly put her tongue to use...

I need my floors cleaned...LOL

---

lumberjim Sunday Jan 18 09:57 PM

---

Sundae Monday Jan 19 09:55 AM

---

capnhowdy Saturday Jan 24 10:44 PM

Hardwood has more cracks.

---

xoxoxoBruce Saturday Jan 24 10:48 PM

And slivers.

---

Sheldonrs Sunday Jan 25 01:06 AM

---

footfootfoot Sunday Jan 25 10:18 AM

(Pedophile huh? That's a pretty fancy word for a twelve year old...)

---

capnhowdy Sunday Jan 25 11:55 AM

I wonder if her tongue will grow along w/ the rest of her..Why wasn't this given as a gift from the creator to a male? Or to me for that matter.

---

richlevy Sunday Jan 25 12:49 PM

On one of the HBO Real Sex episodes they had a stripper with an extremely long tongue...or so I've heard.

---
Your reply here?

The Cellar Image of the Day is just a section of a larger web community: a bunch of interesting folks talking about everything. Add your two cents to IotD by joining the Cellar.