Undertoad Wednesday Nov 21 02:27 PM

11/21: Tom Lehrer (retires from teaching)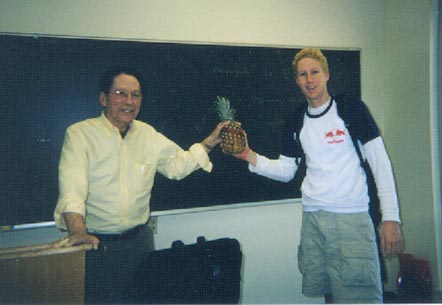 You wouldn't think that the guy on the left there is one of the country's foremost parodists, responsible for creating a wonderful body of work of musical parody, and helping to set the tone for cynical political humor. Well he is. That's Tom Lehrer. The picture comes from here -- a fine tale told by the gent on the right, who was Mr. Lehrer's final student.

After Mr. Lehrer placed himself in musical history, he went back to teaching college-level math. He was always cryptic about the works that he'd created. He was happier just teaching math, it seems, and so that's what he went back to. Now, many decades later, he has retired.

---

warch Wednesday Nov 21 04:27 PM

Aw Tom! master of the sentimental, lets see how did that go?

"...take your cigarette from its holder and burn your initials in my shoulder. Blacken my eye and swear that you're mine as we dance to the masochism tango. Bash in my brain, and make me scream with pain, and kick me once again, and say will never part. You know too well, I'm underneath your spell, so darling if you smell, something burning its my heart. *hick* excuse me" .

---

MaggieL Wednesday Nov 21 04:51 PM

"If on Sunday you're free why don't you come with me and we'll Poison the Pigeons in the Park...."

"Alma, tell us....all modern women are jealous--which of your mmagical wands got you Gustav and Walter and Franz?"

"First you get down upon your kneees...fiddle with your roseries...bow your head with great respect and Genuflect, Genuflect, Genuflect...."

The MLF Lullaby. Whatever Became of Hubert? New Math. Smut. Oedipus Rex. The Elements. Clementine (a la Mozart and Gershwin, no less.) The Olde Dope Peddler.

Even "Silent E" He was even in the1963 movie "A Agthering of Eagles" siging "Strategic Air Command".

The man is a giant among songwriters... I've got most of his stuff on vinyl.

---

lisa Wednesday Nov 21 05:33 PM

And then there are people, like Mark Russel, who don't even come close to the quality of Tom Lehrer, but are all that the public has to listen to in musical-political satire these days.

---

Katkeeper Saturday Nov 24 08:13 AM

I have everything he has recorded plus a signed letter from him.

I admire him as much for sticking to his mission in life, teaching math, as for his wonderful satire, which is as fresh and true today as it was when it was written. And we are talking 50's.

A true hero.

---

jaguar Saturday Nov 24 04:43 PM

AWWW MAN l LOVE THIS GUY!!!!

"today, china, which we call red china exploded a nuclear weapon - which we called a device"

FUll text:
First we got the bomb, and that was good,
'Cause we love peace and motherhood.
Then Russia got the bomb, but that's okay,
'Cause the balance of power's maintained that way.
Who's next?

France got the bomb, but don't you grieve,
'Cause they're on our side (I believe).
China got the bomb, but have no fears,
They can't wipe us out for at least five years.
Who's next?

Then Indonesia claimed that they
Were gonna get one any day.
South Africa wants two, that's right:
One for the black and one for the white.
Who's next?

Egypt's gonna get one too,
Just to use on you know who.
So Israel's getting tense.
Wants one in self defense.
"The Lord's our shepherd," says the psalm,
But just in case, we better get a bomb.
Who's next?

Luxembourg is next to go,
And (who knows?) maybe Monaco.
We'll try to stay serene and calm
When Alabama gets the bomb.
Who's next?
Who's next?
Who's next?
Who's next?

Or the old favorite

So long, Mom,
I'm off to drop the bomb,
So don't wait up for me.
But while you swelter
Down there in your shelter,
You can see me
On your TV.

While we're attacking frontally,
Watch Brinkally and Huntally,
Describing contrapuntally
The cities we have lost.
No need for you to miss a minute
Of the agonizing holocaust. (Yeah!)

Little Johnny Jones he was a U.S. pilot,
And no shrinking vi'let was he.
He was mighty proud when World War Three was declared,
He wasn't scared,
No siree!

And this is what he said on
His way to Armageddon:

So long, Mom,
I'm off to drop the bomb,
So don't wait up for me.
But though I may roam,
I'll come back to my home,
Although it may be
A pile of debris.

Remember, Mommy,
I'm off to get a commie,
So send me a salami,
And try to smile somehow.
I'll look for you when the war is over,
An hour and a half from now!

i've got 2 cds and a ton of mp3s.

---

lisa Saturday Nov 24 09:47 PM

Ahhh, I always liked the line (though it was spoken, not sung), "I particularry remember this heartwarming story about a young necrophyilliac who finally achieved his boyhood ambition by becoming coroner." And, after a few people laughed, he added, "the rest of you can look it up when you get home!" Which, needless to say, got a round of laughter.

Or the other story about the man who "went to Agricultural school where he majored in animal husbandry... until they caught him at it one day."

---
Your reply here?

The Cellar Image of the Day is just a section of a larger web community: a bunch of interesting folks talking about everything. Add your two cents to IotD by joining the Cellar.