Undertoad Friday Oct 8 11:25 AM

10/8/2004: Honored Beagle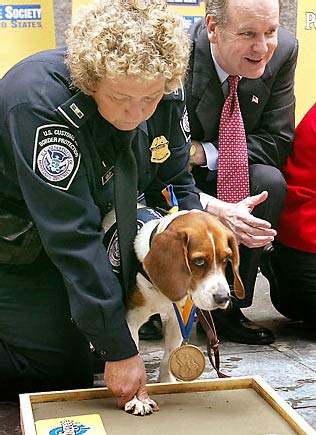 Good boy? The beagle here is named "Trouble", and he's being honored here in NYC by US Customs officials, for his work at Miami International Airport.

Trouble looks... underwhelmed. As well he should. He has little concept of being honored when he gets a big ol medal put around his neck, or his paw flattened and pressed into a patch of what seems like mud. His expression says, to me, "Aw crap, I work all day for these people and now they want to fly me somewhere, put me in a room full of people, jerk my chain around even more. All I want is to settle down with my pack and enjoy a good meal and a nap. When does it stop, Good God, When Does it Ever Stop."

---

glatt Friday Oct 8 11:28 AM

The woman also looks underwhelmed. Only the politician in the background seems to care.

---

axlrosen Friday Oct 8 11:44 AM

Quote:

Originally Posted by glatt

Only the politician in the background seems to care.

Simple explanation for that. There's a 40oz malt liquor just to the right that he's about to pick up and chug. That'd make me smile too...

---

Cyber Wolf Friday Oct 8 12:42 PM

A couple of fresh, still-bloody porterhouses, the comforter off the Human's bed and an open door to a big wide field containing his favorite Human to play with a couple of in-heat she-dogs, for when the Mood strikes. I'm sure this pup would look and be more appreciative.

---

wolf Friday Oct 8 01:38 PM

I think I've seen the little fella on TV before. Isn't he the fruit sniffin' dog, keepin' our borders safe from Medfly or something like that?

---

chrisinhouston Friday Oct 8 04:51 PM

I think that's the dog that kept sniffing my carryone while I waited for my checked bag the last time I was in that airport.

---

xoxoxoBruce Friday Oct 8 07:01 PM

Quote:

Originally Posted by glatt

Only the politician in the background seems to care.

Politician?? Lets see,...hmm,...power tie,......Old Glory lapel pin,.......smarmy smile,.......grasping hand. Yup, I think you're right.

---

wolf Saturday Oct 9 01:55 AM

If you ever want to make a friend, enemy, or coworker's trip through a checkpoint that uses dogs more interesting, try a little "bitch in heat" urine on their carryon ...

---

jane_says Saturday Oct 9 09:47 AM

I love beagles! They just seem like the doggiest of dogs. Not prissy, and they're smart, but still goofy enough to be your best buddy.
I once killed four of six in a litter, though, by overfeeding them. My dad and his buddies were gutting about five deer they'd bagged

and I was feeding the puppies the scraps. That was the same year I tried to revive a huge catfish we caught by putting the waterhose in it's mouth.

---

xoxoxoBruce Saturday Oct 9 08:37 PM

Beagles are cute and useful, but they are LOUD. To get that much sound out of that little dog, God must have consulted Dr Bose.

---

Leah Sunday Oct 10 06:26 PM

Cute little beagle, my sister works for Australian Quarantine at the Sydney International Airport, she's a sniffer dog handler. Her first dog Lucy that she trained with failed a few doggie exams a few months into her working career so now Lucy Loo lives with her and has the best life any dog could ever wish for or any human for that matter. My sister loves her job with a passion, what a job, working with animals all day. This is Lucy in her early days of a working dog, very pretty dog, we are always stopped on the streets with people commenting on how pretty she is. Love ya Lucy Loo.

---

wolf Sunday Oct 10 06:41 PM

I knew I'd seen that picture before ...

Actually, it wasn't the pic of the dog that tipped me, it was the box behind her ...

---

Leah Sunday Oct 10 06:49 PM

Tthis is Lucy now, with her sister Sky (infront) and Sam my dog. Christmas last year they love Christmas with all the pressies and food.

---

xoxoxoBruce Sunday Oct 10 07:50 PM

Psssst, has Santa been drinking?

---

Trilby Sunday Oct 10 07:53 PM

Are there Santa's who DON'T drink???

---

Leah Sunday Oct 10 08:03 PM

I think Santa had been drinking. He had just done a full day with snotty nose kids then the afternoon was dedicated to animals of all kinds. The money raised was donated to the RSPCA (animal fund). If only I had an elephant to take along. Next year.

---

onetrack Tuesday Oct 12 01:30 AM

Leah - that's a fabulous pic! Had to chuckle at the box in the pic background, though, as Bruce indicated .. only in Australia, could someone carry around a box labelled .. Witchetty Grubs!! LOL!

---
Your reply here?

The Cellar Image of the Day is just a section of a larger web community: a bunch of interesting folks talking about everything. Add your two cents to IotD by joining the Cellar.