Undertoad Tuesday Dec 14 12:22 PM

12/14/2004: Lap pillow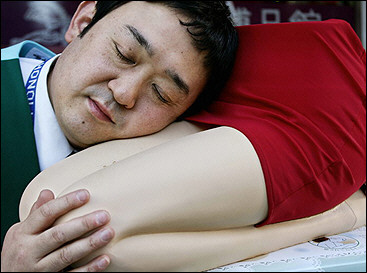 Two months ago madmonkey found the boyfriend pillow, and now he sends along the equivalent - the LAP pillow. A little research finds that 3000 of them have already been sold - at $90 per.



Quote:

"Single men find this soothing," said Mitsuo Takahashi of the manufacturer Trane KK.

He told AFP that the Hizamakura, or lap pillow, fulfilled a primal need.

"From the time people were kids, people have laid their heads on their mothers' laps to get their ears cleaned," he said. "This is made to be quite close to the real thing."

Um.

---

xant Tuesday Dec 14 01:18 PM

That one guy is grabbing his primal mother's ass.

---

wolf Tuesday Dec 14 01:27 PM

The last story before the credits on Action News today was the lap pillow.

You scooped them by about 6 minutes, UT!

---

Undertoad Tuesday Dec 14 02:00 PM

I'd be more surprized if I didn't! Local news are bottom feeders now!

---

Wormfood Tuesday Dec 14 02:00 PM

Boyfriend pillow,lap pillow...
Hmm.. if we can't sell the entire doll,
so lets chop it up and sell it in pieces.
(of course with a better profit.)

---

garnet Tuesday Dec 14 03:13 PM

Oh dear....I wonder if they're anatomically correct.

---

SteveDallas Tuesday Dec 14 03:36 PM

Only in Japan would this kind of thing have a panty shot included!

---

MAdMoNKEY Tuesday Dec 14 03:49 PM

If I were to splurge I'd need 2 lap pillows...*sigh* every man's dream!

---

Elspode Tuesday Dec 14 05:08 PM

SD beat me to the punch...primal mother beaver shot...egad.

---

Karenv Tuesday Dec 14 11:35 PM

Yeah, it doesn't look like Mother's lap is what its all about.

---

xoxoxoBruce Wednesday Dec 15 04:41 AM

More like lapping mother. But, then again, she didn't say no.

---

xoxoxoBruce Wednesday Dec 15 07:54 AM

Here's a chair to go with it.

---

Beestie Wednesday Dec 15 12:23 PM

I wonder if it has a warmer inside. I wonder how many Japanese men buy two and stage some lap on lap action. Why did they leave off the upper torso - seems like that would stimulate... uh.. sales. I wonder how long before they come out with one with a pleated, plaid miniskirt and knee socks.

---

Karenv Thursday Dec 16 10:21 AM

Bruce- I love that chair. Couldn't see the image until I hit the "reply" button. Neck support right between the breasts. Do you have a link for it?

I was going to say that the Japanese must be thigh men, judging from the pillow. Submissive thighs in fact. But I'm so distracted by Bruce's chair....

---

xoxoxoBruce Thursday Dec 16 05:40 PM

That chair was part of a window display in a clothing store. Most likely one of a kind.

---

chrisinhouston Wednesday Dec 22 09:42 AM

"Make him an offer he can't refuse"

This one is for fans of The Godfather:

http://www.kropserkel.com/horsehead.htm



---
Your reply here?

The Cellar Image of the Day is just a section of a larger web community: a bunch of interesting folks talking about everything. Add your two cents to IotD by joining the Cellar.