Undertoad Tuesday Dec 18 01:14 PM

12/18: Buggy MS software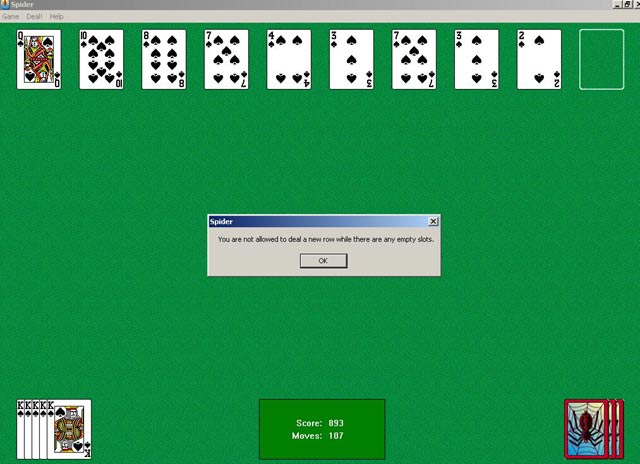 Serge sends along this screenshot of a dumb-as-nails bug in Spider solitare. Not to be outdone, I send along this other, different screenshot, showing a Departures screen at the Manchester (NH) airport. BTW, all of the Departures screens at the airport showed the same thing, and for quite a while, too. (And we were departing at the time. BTW, that's Mrs. Undertoad in the reflection in the screen.)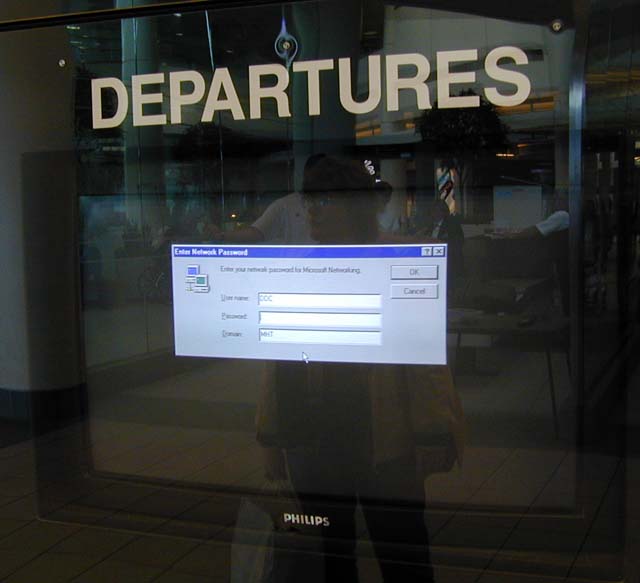 ---

MaggieL Tuesday Dec 18 01:20 PM

If you liked those, pick up on The User Interface Hall of Shame

---

pooh Tuesday Dec 18 04:15 PM

A ticket kiosk in a Cinema.

Once the tickets software is dead, it's easy to access all other Windows computer in the network, including accounting, all of them with all disks shared at the root C:\ with read-write access! Stupid dumbshit MCSE asshole!

Buggy softwares for buggy

---

dave Tuesday Dec 18 04:25 PM

Wow. Imagine the illegal fun you could have with that.

---

pooh Tuesday Dec 18 04:35 PM

Not MS software, actually IBM, not a bug but a human error, a HUGE ERROR!

This was taken in a electronic store, this is a security system console and a code-bar reader, so all securities database and product database are connect to it.

The sad part is the console is connected to the server trough a serial line and the software is running as root. So any kid that know "rm -rf /" can trash their server.

---

jaguar Tuesday Dec 18 06:35 PM

Awman, i wish i'd got half the singapore airport screens being BSOD'd on camera now...

---

juju2112 Wednesday Dec 19 12:56 AM

from <a href="http://www.daimyo.org/bsod/">http://www.daimyo.org/bsod/</a>:
<Br>

---

juju2112 Wednesday Dec 19 01:07 AM

Heh... I like this one, too.
<br>


<br>
the caption:

<i>They were attempting to show websites about the close approach of Mars this week using AOL's web browser. ikaros says, "A BSoD doesn't have to be big to be embarrassing. This one is from a live CNN report on the Daybreak show, 22 June 2001. The crash probably did AOL no favors either."</i>
<br>
<br>
(from http://www.coppit.org/homepage/windowscrash.html )

---

wolvie Wednesday Dec 19 01:48 AM

Here's a photo I took a few months ago of Windows NT mysteriously showing itself on one of the LCD screens rolled out across Sydney's CityRail train network. Not as good as the CNN BSoD, but still...




Strange considering they're just LCD screens mounted from the ceiling, seemingly with a separate computer in each one. I went back to the same platform at Central Station that evening and it was still like that.

---

juju2112 Wednesday Dec 19 10:59 AM

Also, if you go to the coppit.org link above, one of the first items is a short quicktime movie of Windows 98 Beta crashing at Comdex during a USB demo. It is freakin' hilarious.

---

Dygytyz Thursday Dec 20 11:51 AM

Yeehaw!

Got this while updating an NT4.0 box with Microsoft's SP60a UberPatch. It's a good thing the memory couldn't be "written".

---
Your reply here?

The Cellar Image of the Day is just a section of a larger web community: a bunch of interesting folks talking about everything. Add your two cents to IotD by joining the Cellar.