Undertoad Friday Mar 18 10:42 AM

3/18/2005: Chihuahua adopts chick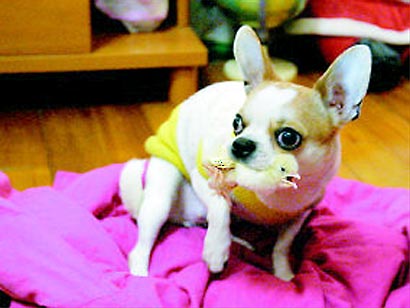 It's all about the Friday, in this one sent by another reader whose real name doesn't match up to a username. Thanks to you folks, you know who you are!

Anyhoo, what we have here is not a dog eating a chick, but a dog ADOPTING a chick. The entire story:

A pet chihuahua dog has adopted a baby chick in China. Huahua took charge of the chick as soon as owner Liu Bangyang's daughter brought it home. She regards the chick as her baby and stands guard to make sure it comes to no harm, reports the Chongqing Morning News. And, whenever the chick strays too far, Huahua picks it up gently in her mouth and puts it back in its cot. Liu, from Guiyang city, Guizhou province, said: "We'll try our best to raise the little chicken, if that's what Huahua wants."

Outstanding. Happy Friday.

---

lookout123 Friday Mar 18 10:43 AM

a mexican dog in china, raising a chicken. who woulda thunk?

---

BigV Friday Mar 18 10:52 AM

Clearly the dog is just compensating for the embarassing truncation of his name. "Huahua", shamed by the missing "Chi" knew a good thing when he saw it, and clearly he's not gonna let The Man keep him down no more.

---

wolf Friday Mar 18 11:41 AM

I think the little dog is very upset at the loss of his life-energy (chi) and is using the chick as a comfort object to help it mourn it's loss ...

Do you think it's name is pronounced "Wa-Wa" or "Hooah Hooah"?

Does either mean anything in Chinese?

---

Undertoad Friday Mar 18 11:47 AM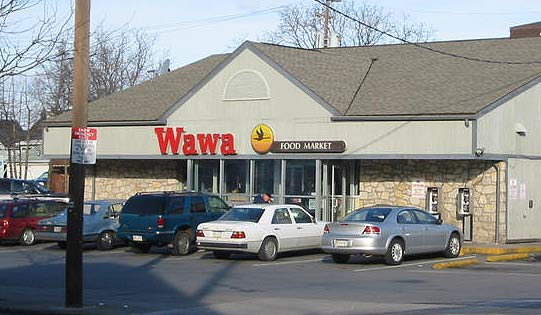 ---

hampor Friday Mar 18 12:24 PM

huahua

I googled up this from a dictionary:

huahua (象 声 ) 哗哗 onomatopoeia for sound of flowing water; splish-splash

Unless the name is really hau-hau and they have Polish ancestry.
(see http://www.georgetown.edu/faculty/ba...imals/dog.html)

---

Elspode Friday Mar 18 01:02 PM

Obviously, the pooch has an incontinence problem...

---

wolf Friday Mar 18 02:17 PM

Not an unusual condition for small, neurotic canin ... oh. I get it. Giggle.

---

Kitsune Friday Mar 18 02:22 PM

Wawawawaaaa...

UT, what the hell is Wawa's, anyway? I've only heard they have good coffee.

---

wolf Friday Mar 18 02:32 PM

It's Southeastern Pennsylvania's version of 7-11, only they make fresh sandwiches in the stores, and they do have awesome coffee, now available in many different varieties, including a variety flavors, and the new Kenya AA premium coffee. They're starting to expand, but for many years you could only find them in Phila, Montgomery, Delaware and Bucks Counties. They are now in the states of Delaware and New Jersey and are expanding even farther afield.

---

Leus Friday Mar 18 02:36 PM

I can't figure which way is she looking at.

---

wolf Friday Mar 18 02:40 PM

Neither can she.

---

Beestie Friday Mar 18 03:02 PM

Wa-Wa is Hindi for swan (or something close to that).

xia xuan Taco Bell?

---

Elspode Friday Mar 18 04:08 PM

Ah, that would explain the flying bird logo, then.

For a minute there, I thought it had something to do with Helen Keller.

---

n3v3r Friday Mar 18 05:07 PM

We have had Wawa's in Maryland for a while now. They are like 7-11 or Sheetz and the ones around me actually have pretty great "real" food for a minimart. The calzones and meatball subs are not half bad.

---

xoxoxoBruce Friday Mar 18 05:14 PM

The locals called it WA-WA until the white savages came along and called it the Canadian Goose. The stores took the name from the dairy that took the name from the village that took the name from the natives. Clear?



btw, maybe the dog thinks the chick is a "Peep" and is waiting for Easter to eat it.

---

chrisinhouston Friday Mar 18 06:55 PM

Isn't the little doggie sweater cute?

---

ashke Friday Mar 18 11:00 PM

Actually, wa-wa in Chinese means doll.

---

404Error Friday Mar 18 11:02 PM

"Yo quiero chicken taco"

That chick doesn't look all too happy with the arrangements.

---

Griff Saturday Mar 19 07:06 AM

We're back to the lioness fattening up the calf...

---

capnhowdy Saturday Mar 19 07:58 PM

.......Probably just a matter of time before the young fowl becomes kibbles & chicks...................

---

BrianR Saturday Mar 19 09:52 PM

I used to work at WaWa in HS.

If my memory serves, it's something to do with the calls of the Snow Geese, either navigating or mating, I forget which.

They have decent quickie sandwiches and are head and shoulders above 7-11. The oveall appearance of their stores is better too. And when you add in the no-fee ATMs I'm a repeat customer. Now I need one here in Hazleton. Anywhere in Hazleton.

Brian

---

Griff Sunday Mar 20 06:22 AM

Quote:

Originally Posted by BrianR

Now I need one here in Hazleton. Anywhere in Hazleton.

Brian

Gee, I figured they'd migrated that far North by now. ducks

---
Your reply here?

The Cellar Image of the Day is just a section of a larger web community: a bunch of interesting folks talking about everything. Add your two cents to IotD by joining the Cellar.