Undertoad Tuesday Jun 21 02:32 PM

6/21/2005: Upside down balloon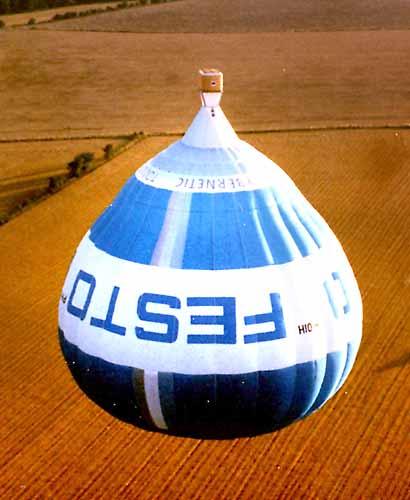 Mark this down as one of those things that truly did not need doing, but it's nice they did it anyway. This is no fake, this is an upside down balloon.

"It was a tall order, though, in a lot of ways, for example the basket at the top is fake, and there is a real basket underneath, which is hidden by a special skirt that can be lifted as the pilot comes in to land."

full story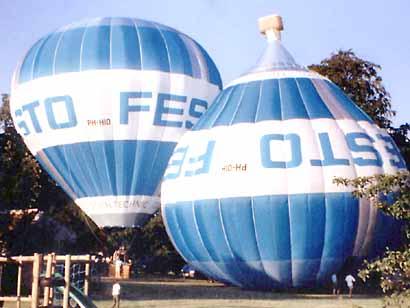 ---

wolf Tuesday Jun 21 02:35 PM

"Hi, this is our balloon. We built it just to screw with you."

---

Trilby Tuesday Jun 21 02:41 PM

Oh, for the love of...

---

glatt Tuesday Jun 21 02:54 PM

The pilot must have great visibility, hidden behind a skirt. It's like piloting a submarine. Blind.

---

xoxoxoBruce Tuesday Jun 21 02:57 PM

Birthing, but when you lift the skirt full grown people pop out.

---

BigV Tuesday Jun 21 03:52 PM

Don't know why y'all are so freaked out...in my experience every proper landing came after the skirt was raised.

---

Stonan Tuesday Jun 21 05:11 PM

DANG!

I tried to find out the name but maybe someone here will know. I don't know if they exist but in the movie King Solomon's Mines (1985) they show a tribe of people who are unhappy with the way the world is and therefore live entirely upside down in the hopes of changing it.

Anyone happen to remember it? I think it's Abugwai or Umbugwai...

At least that's what it sounds like....



---

Happy Monkey Tuesday Jun 21 05:42 PM

I don't suppose anyone's heard of Barry Louis Polisar? He's got a song about a kid who walks on his hands "because an angry face is still a smile, when you're living upside down".

---

capnhowdy Tuesday Jun 21 09:38 PM

Never been on or around a balloon. I always thought you RODE instead of PILOTED.
For me to be airborne, I would desire a little more control.
Only been a couple weeks ago I heard a news story where two people were killed on a hot air balloon. I'll just watch them Ride, ahem I mean pilot.

---

Wombat Wednesday Jun 22 02:27 AM

They are piloted not ridden. The pilot changes direction by changing altitude, because air travels in different directions at different altitudes due to the coriolis effect. Obviously the range of possible directions a balloon can travel is limited, it can't do a u-turn and go back the other way.

p.s. cool ballon!

---

barefoot serpent Wednesday Jun 22 12:48 PM

Quote:

Originally Posted by Wombat

p.s. cool ballon!

No, actually it's a hot air balloon :p

---

CharlieG Wednesday Jun 22 01:19 PM

Heh - just remember - hot air does NOT rise - cold air SINKS, and displaces the hot air up

---
Your reply here?

The Cellar Image of the Day is just a section of a larger web community: a bunch of interesting folks talking about everything. Add your two cents to IotD by joining the Cellar.