Undertoad Wednesday Aug 24 01:46 PM

8/24/2005: Longest eyebrow hair



Thanks Axlrosen! Frank Ames of Saranac in New York earned his place in the Guinness Book of World Records with a pair of bushy brows measuring 9.6cm.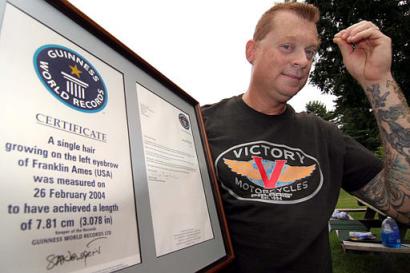 And he gets a nifty plaque for it. "I don't know why it grows like that; it just always has," Frank said, ensuring a new verse of that Mmm Mmm Mmm Mmm song.

But look out. Has the Guinness Book been taken? Two years ago IotD featured a Sikh with immense brow hairs: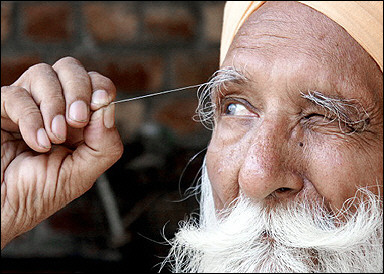 And what about this?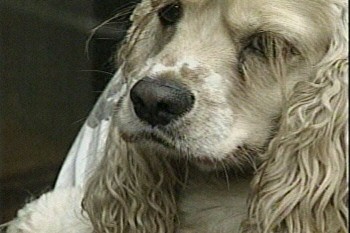 ---

CharlieG Wednesday Aug 24 01:52 PM

9.6cm? About 3.9 inches? Heck, I have to stop trimming mine - I bet I'll come close

---

CharlieG Wednesday Aug 24 01:54 PM

and I just noticed the plaque says 7.81cm (3.078") - heck, I MIGHT be able to do that.....

---

wolf Wednesday Aug 24 01:57 PM

Guinness sure has gone downhill on records since they changed the rules on the food consumption records so people don't die as often trying to break them.

---

vsp Wednesday Aug 24 02:25 PM

Yeah, I always wanted to try to break the bicycle-eating record.

---

Hobbs Wednesday Aug 24 02:37 PM

When I used to work on a Naval base, we had this old Filipino dude that would come in to empty trash cans and clean up. This guy had some of the longest eyebrows I've ever seen to date. I talking long. Like you could weave blankets with his eyebrows and still have leftovers. Long!

---

Elspode Wednesday Aug 24 03:02 PM

I will never be able to mount a serious challenge to this record, because my eyebrow hairs always start poking me in the eye before they come close to competetive length...so I yank 'em out.

---

capnhowdy Wednesday Aug 24 04:02 PM

..."Ever wonder".....
Hold on.... what about Andy Rooney?

---

Anton Thursday Aug 25 06:39 AM

The breed of dog in that last pic are lovely. They are American Cocker Spaniels and they're eye lashes grow to a mental length if you leave them! I've had 4 of them over the years (dogs, not eye lashes). The only breed of dogs I've seen that actually try to talk by making small grunting noises. Tis the weirdest thing! You grunt back at them and they get quite excited!

---

Saknussem Thursday Aug 25 01:20 PM

The last American Cocker Spaniel I ever really knew was my next door neighbor's dog. He brought the dog over, knowing that we had a rabbit in the house. The dog did what dogs do and went for the rabbit. Unfortunately for the dog, our rabbit was an adopted wild rabbit who had gotten REALLY big on good chow in the house and the rabbit promptly went for the dog. Bunny (clever name, eh?) latched those big front choppers right into the dog's nose and would NOT let go.

---

lookout123 Thursday Aug 25 02:28 PM

um, was the rabbit housetrained or did you have floorsweeping duties?

---
Your reply here?

The Cellar Image of the Day is just a section of a larger web community: a bunch of interesting folks talking about everything. Add your two cents to IotD by joining the Cellar.