Undertoad Friday Jan 11 01:00 PM

1/10: Surfer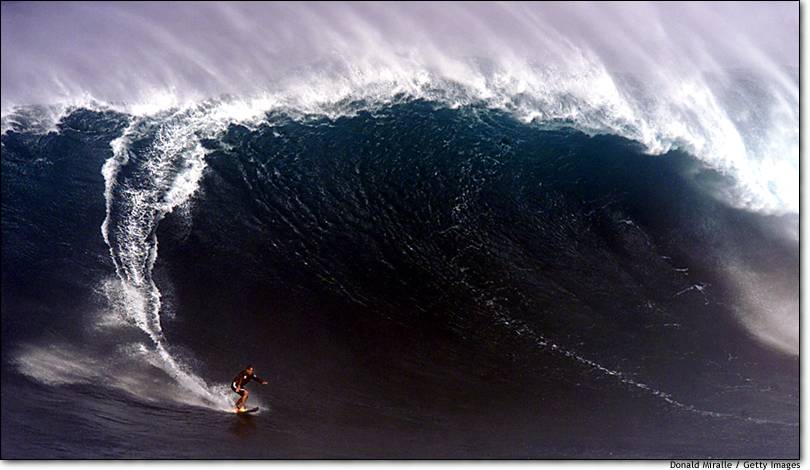 Sometimes the MSNBC Week in Pics turns up images that don't say much wrt news, culture, etc. but are just glorious. That you look at and say Wow.

---

dave Friday Jan 11 01:12 PM

You say "Wow". I'll say "Ballsy".



Seriously... that must be some fun stuff they're doing. I've never surfed, and never really had any desire to... but to risk being pounded into coral reefs or drowned or whatever - they're not just doing for the hell of it.

So good luck to 'em, and keep the images of huge waves coming. It's still something to stare in awe at...

---

modernhamlet Friday Jan 11 02:33 PM

Dude! Look out! There's a big wave behind you!

---

blowmeetheclown Friday Jan 11 03:25 PM

So instead of pig Fridays, we have pig-dogs.

---

Joe Friday Jan 11 05:12 PM

woof

The sport of big-wave surfing is completely different from just "surfing".

If those guys wipe out, they die. And, as we've learned in the past few years, it doesn't matter if you're one of the world's best surfers. Once you're off the board you're the same as anyone else.

I can't tell from this photo, but some of the waves are so gigantic that their wavelength and speed are too great for a human to catch by paddling. Instead they get towed behind a boat or waverunner-type vehicle, and catch the wave with a running start.

---

blowmeetheclown Friday Jan 11 05:28 PM

Do a google search on Laird Hamilton (he was/is married to Gabby Reese - yummy) -- he's been one of the forerunners of tow-in surfing. If you saw "Endless Summer 2," then you definitely saw him. He was the stacked mofo that was windsurfing between islands in Fiji. What a life.
There's also been quite a debate about the validity of tow-in to the sport, inasmuch that you aren't into the "true soul" if you use a machine to catch waves. I figure if you use a boat to get there in the first place, what's the difference in using a smaller one to get into the wave?

---

ndetroit Saturday Jan 12 06:03 AM

I'll always remember a scene from "endless summer" where they show a guy doing the big waves at one of the beaches in hawaii, and he comes up from a huge wipout, with his board broken in half, and the (awesomely) goofy announcer says, "You know, you can drive a truck over a surfboard, and barely scratch it. A single wave puts about 100 tons of pressure on it though, and snaps it like a twig...", or something to that effect.

---

backpacker Sunday Jan 13 04:42 PM

Hey! That looks like my freind David!

---
Your reply here?

The Cellar Image of the Day is just a section of a larger web community: a bunch of interesting folks talking about everything. Add your two cents to IotD by joining the Cellar.