Undertoad Saturday Oct 8 12:01 PM

10/8/2005: Python vs Gator, both lose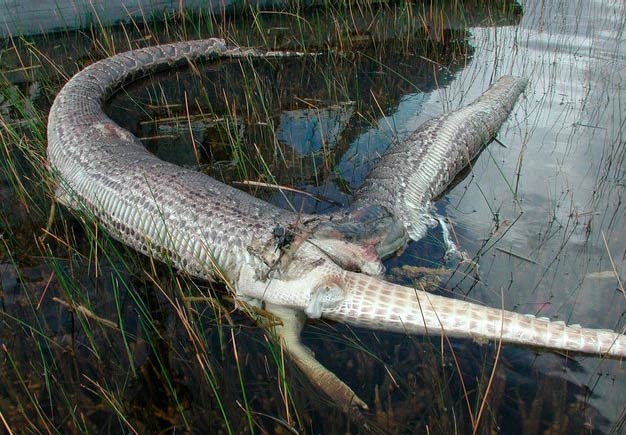 Submitted by five different people, already posted in another IotD thread, and seen by just about everyone by now... but it's such an IotD that it has to be documented anyway.

The photo was released by the Everglades National Park, Florida. This is a Burmese python that attempted to swallow an alligator. Unfortunately it was just too much for the python, who then exploded. In the above shot, the "pieces" of python are the top section of the photo, while the section pointing down and to the right is the gator's hind end. They say the gator may have clawed at the inside of the snake while being digested.

Ew.

Apparently the snake's head is also missing!

Burmese pythons don't happen naturally in the Everglades, so the thinking now is that this was probably a pet who got abandoned once he became too much for the owner. Apparently this is such a problem that there were 150 pythons captured in the last two years. And apparently this is the fourth python/gator encounter they have documented.

---

xoxoxoBruce Saturday Oct 8 12:30 PM

Methinks the 'gator farted.



I'm being eaten by a Boa Constrictor,
A Boa Constrictor,
A Boa Constrictor.
I'm being eaten by a Boa Constrictor,
And I don't like it one bit.

Whadaya know, it's nibblin' my toe.
Oh gee, it's up to my knee.
Oh fiddle, it's up to my middle.
Oh heck, it's up to my neck.
Oh dread, it's mm-mm-mm-mm...
Shel Silverstein

---

Trilby Saturday Oct 8 01:29 PM

---

dar512 Saturday Oct 8 01:33 PM

Quote:

Originally Posted by xoxoxoBruce

Methinks the 'gator farted.


Best laugh I've had all week. Thanks B.

---

grouch Saturday Oct 8 03:11 PM

Quote:

Originally Posted by Brianna

I'm with Brianna on this one!!!!


---

Leah Sunday Oct 9 07:40 PM

Sorry to be thinking logically here, but I think there was some horrible human interference involved.

---

xoxoxoBruce Sunday Oct 9 09:15 PM

Naw, that's the way they found it. Spotted it from a helicoper.
I've seen these pictures and a video on a bunch of websites and none have mentioned the snakes head being missing.

---

Calamormine Monday Oct 10 12:18 AM

This reminds me of that Far Side comic where the two cops walk into the room and see the alligator swallowing the guy while being squeezed by a boa constrictor. I'm sure someone could shame me and be able to find a link, I couldn't for the life of me.

"I've seen this sort of thing before, Baxter... and it's not a pretty sight."

---

chrisinhouston Monday Oct 10 08:15 AM

Here is a link to a video of another snake doing the same thing. Never liked snakes much, now it only confirms it!



http://www.videotiger.com/alligatorsnakevideo.shtml

---

Vegeta Monday Oct 10 02:27 PM

A coworker pointed out that this must have been one damned stupid python to not crush the gator to death before trying to eat it. HURRRR HUGE TEETH SHARP CLAWS SCALES WILL GO DOWN EASY HURRRRR

At least now it can serve as a warning to all the baby Burmese pythons... "And that, junior, is why we crush our food before we eat it!"

---

kelliekd Tuesday Oct 11 09:57 PM

Looks like the perfect solution to me, no more snake, no more alligator...

to all you vicious scaly things

---
Your reply here?

The Cellar Image of the Day is just a section of a larger web community: a bunch of interesting folks talking about everything. Add your two cents to IotD by joining the Cellar.