Undertoad Saturday Jan 19 11:30 AM

1/19: Our man-eat-dog world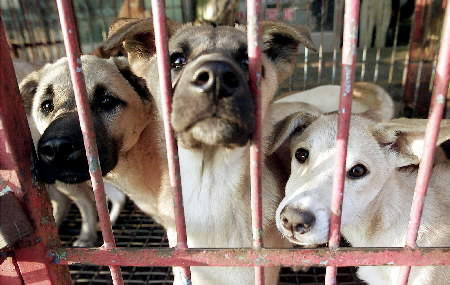 This is a series, not just one image, because none of these images alone is good enough, but together they ARE good enough for IotD, in my opinion.

It turns out that the World Cup, being hosted in S. Korea this time, is digging up the issue of dog eating, a practice which is part of the S. Korean culture.

It turns out that FIFA, the international controlling organization of football [soccer], has asked S. Korea to ban it. Along with Brigitte Bardot. I'm sorry, I'll write that again. FIFA and Brigitte Bardot have asked S. Korea to ban dog eating. The eating of Brigitte Bardot is regulated by other laws.

The dogs above have been et by now.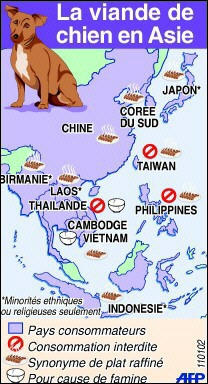 Legend: the purple countries are dog-eating countries. In the asterisked countries, dog-eating is only by religious or ethnic minorities. Where there is a brown "portion" (or whatever that is), dogs are considered a delicacy. Where there is an empty bowl, dog-eating only happens during famine. Where there is a red circle/slash, dog-eating is officially banned.





And this is what it looks like when prepared.

---

Nic Name Saturday Jan 19 12:10 PM


Ain't Nothin' But A Ground Dog restaurant, S. Korea.

---

blowmeetheclown Saturday Jan 19 12:16 PM

One of my S Korean friends (yea, you still don't see too many N Koreans

)informed me looong ago that eating dog and cat are common, although the dogs are not your typical retrievers or labs. They have "ranches" (for lack of a better word) that breed larger dogs that are not indigenous to the US. He said these are a little fatty, and look almost like small cattle. He also told me that the people that eat it can really afford it, as it is sometimes more expensive than beef (he related a restaurant that served it ~$100/lb).
It's not like they seem to go out and cook up any dog they find in the street, unlike the taco stands in Mexico -- have <b>you</b> ever seen a Chihuahua walking the streets there?!

---

dave Saturday Jan 19 03:23 PM

There's just something about eating dogs that doesn't sit right with me. Probably because dogs have more personality than cows or chickens do. I'm sure those that have cows for pets would disagree, but I've spent a lot of time around pigs, cows, chickens, dogs and cats. I'd say cats have the most personality, then dogs, then pigs... I don't think chickens and cows even rate

Anyway. That's probably why I couldn't eat cat or dog... but that's just me. My friend Matt enjoys <b>raw horse</b> while he's in Japan. Not sure I'd be down with that either...

---

jeni Saturday Jan 19 04:16 PM

after living with a dog, i'd have to say they definitely have more personality than cats. i guess it depends on the breed, etc, but harry has tons of personality.

also, didn't matt only eat raw horse once? i mean, he said it was there so he ate it, but was it really as though he was excited to eat it? judging by the way i heard him talk about it, i wouldn't say "he enjoys raw horse while in japan"...but i could be wrong.

---

Hubris Boy Saturday Jan 19 04:38 PM

Re: 1/19: Our man-eat-dog world

Quote:

Originally posted by Undertoad




And this is what it looks like when prepared.

What... pad gai?

---

dave Saturday Jan 19 04:45 PM

He told me that it was "really good". Buttface.

Hubris - no. Pad gai looks like a plate of noodles and chicken. Mmmm Mmmmm good.

---

jennofay Saturday Jan 19 05:18 PM

the thought of eating dog = vomit.

pardon.

---

Nothing But Net Saturday Jan 19 05:38 PM

Funny this should come up now. Slate had an excellent article on this very subject a few days ago...

Wok your Dog

I don't know, 'Eating Dog' just conjures up an entirely different scenario to me! :p

---

Nic Name Saturday Jan 19 05:43 PM

Thai dogs are getting tenderized at "Doggie Bag"

It's a Dog's Life at Massage Parlor

January 18, 2002 11:06 am EST

BANGKOK (Reuters) - Traditional Thai massage is renowned for its healing effects on the human body, and now Bangkok residents can buy the same luxury for their canine companions.

Thai entrepreneur Thanit Kittikanokun has opened "Doggie Bag," a new salon and spa for dogs, which he hopes will kick off a fad for pampering pooches.

"I found out from many years of having dogs, they also love being massaged," said the 44-year-old dog lover.

"Apart from physical massage I'm giving them voice massage also, kind of talking to them, soothing voice. The main thing is don't use a high pitched voice but a normal one, so the dogs can relax."

Thanit says a massage can help a dog relax after the stresses of the Thai capital's hectic streets.

Appointments can be made by phone and dog owners can choose between different products, from regular washing and grooming to massage and aromatherapy.

The price depends on the size and hair-length of each dog, but is around $11.50 a session.

---

tw Saturday Jan 19 06:19 PM

What do you think the purpose of dogs were? Dogs were cattle of nomadic tribes. In good times, dogs were fattened. In times of famine, dogs were slaughtered for food. Dogs are traditionally so dumb that they would stick around to be slaughtered like cows and buffalo. It is why dogs were called, "Man's best friend."

A dog will eat almost everything provided? Perfect. In good times, you could easily fatten a dog because dogs typically just keep eating.

Other forms of domestically raised beef were created only after man settled to farm the land. Genetic research as reported in Scientific American indicates this first began in SE Turkey. In NA, Indian tribes did same in Missouri. Only when man started farming rather than roaming did dogmeat become supplemented by other domesticated animals.

How wealthy was the roaming tribe? Just count his dogs and notice how fat they were. The original purpose of dog - to provide the tribe with a steady diet of meat.

---

blowmeetheclown Saturday Jan 19 07:09 PM

Quote:

Originally posted by dhamsaic
Probably because dogs have more personality than cows or chickens do.

I think I'd have to disagree with you there, D. I had a chicken named Foghorn Leghorn once (I know, I know... he's a rooster), and she had all kinds of personality. She would let me pick her up and pet her -- I could even feed her from my hand, unless she hadn't eaten in a while. Then it was better to throw a few handfulls out and get inside as quickly as possible.
I lived in a rent house on a ranch that stabled several different people's horses, and she'd hang out in the barn until she saw my suburban pull into the road. I'd see her run as fast as those 7 toes would let her (she lost a toe in a fight with some cats), all the way to the house to meet me. I was really sad the day I came home to find her dead on my doorstep. (I'm thinking someone in the barn didn't like her, although the owner claimed a horse might've trampled her.)

---

jennofay Saturday Jan 19 09:06 PM

chickens do have amazing little personalities. you wouldnt imagine that a chicken would, but they do. my mom and i raised chickens from when i was ten until when i moved out (she still does, but i cant here anymore). we had some 150 at one point and most of them were named, and i could tell them apart based on their markings and personalities. some were friendly, some were agressive, some were shy, and some were outgoing.

i do have to say, though, that cats have MORE personality than chickens do. our chickens would chase us around until we fed them, but they wouldnt come over and jump on our stomachs and meow in our faces at 5:30 in the morning until we got up and went out to the car to get the new bag of feed to feed them (like shadow, our cat, does now).

i dunno, i wouldnt eat any of them.

(and yay, 100 posts for me

ok, i know, im a nerd, but this is a milestone of some sort, even if small.)

---

jeni Sunday Jan 20 01:31 AM

i used to give shadow massages. he would roll around and smile and meow. cats love massages. rats love them too. i'd imagine they feel pretty good to most animals, so long as the person giving them isn't rough...

---

kaleidoscopic ziggurat Thursday Jan 24 03:29 PM

live with an animal and you will probably cross it off your list of whats eatable... you may grow to appreciate the quirks of just about any living creature, probably. the thing is... those quirks aren't exhibited when they're in pieces on your plate.

---

Duncan Idaho Thursday Jan 24 09:47 PM

Quote:

Originally posted by tw
What do you think the purpose of dogs were? Dogs were cattle of nomadic tribes.


Just out of idle curiosity, what's your source for this?

---

dave Friday Jan 25 12:39 AM

The Economist, of course. :P

---
Your reply here?

The Cellar Image of the Day is just a section of a larger web community: a bunch of interesting folks talking about everything. Add your two cents to IotD by joining the Cellar.