Undertoad Wednesday Dec 14 06:23 PM

12/14/2005: Latte art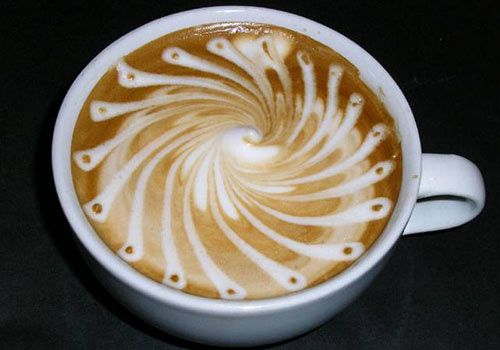 I don't normally set out to find IotDs that are related in a week, but sometimes it goes well. Monday was smoke-based art, Tuesday was a load of smoke, now Wednesday is foam-based art... latte foam, that is. Suggested by axlrosen, thanks!

And apparently it's the focus of some sort of competition.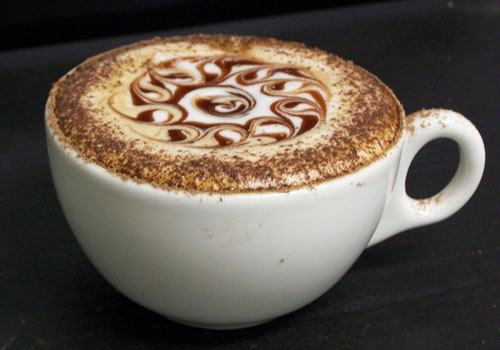 ---

Leah Wednesday Dec 14 06:49 PM

My god some people have way toooooo much time on their hands.
By the time you get to drink the coffee it would be cold.



Looks good anyway.

---

Happy Monkey Wednesday Dec 14 07:01 PM

That's what the foam is for - insulation!

---

glatt Wednesday Dec 14 08:06 PM

As a customer, I would feel guilty for drinking my freaking coffee.

---

Sun_Sparkz Wednesday Dec 14 08:13 PM

yummmmmmmmmmm.. the froth is the best part! with chocolate powder...mmmmmmmm

I dont care how pretty my froth is.. long as there is lots of it and lots of chocoltae powder, i dont even care if there is no coffee!!

---

busterb Wednesday Dec 14 08:44 PM

I fell the same way about head-------- or beer

---

capnhowdy Wednesday Dec 14 10:24 PM

I'll have mine with caramel, thank you.

I nominate Bob's dog to win the kampioenschap.

#1 thing I love about art: You can find it anywhere. Coffee cups, subway walls, cigarrette smoke, vacuum cleaner dust, bubble gum, yarn covered hay bales, narrow spots on your FTL"s, etc.

---

beavis Wednesday Dec 14 10:31 PM

looks fawken delish man. i haven't had coffee since friday night...

---

xoxoxoBruce Thursday Dec 15 05:00 AM

Kind of wasted in a foam cup with a lid.

---

chrisinhouston Thursday Dec 15 10:36 AM

I'm beginning to wonder if this website and the one for the smoke art weren't started by AA members. As I recall there's a lot of smoking and coffee drinking at those meetings!

---

milkfish Thursday Dec 15 12:33 PM

This site was featured on Rocketboom recently.

I wonder whether the barista used some contraption to get the dots around the edge spaced so evenly, or whether it was just good old hand-eye coordination.

---

Trilby Thursday Dec 15 01:16 PM

Now I want a hot chocolate. Sigh.

---

BigV Thursday Dec 15 01:57 PM

How 'bout a Guinness?

---

Trilby Thursday Dec 15 01:59 PM

Canna hae na Guinness! Am sick with bronchitis and sinus! Hot chocolate and apple pie! That's the ticket! (wish had pie smilie)

---

Wormfood Thursday Dec 15 02:32 PM

Wonder how much more do I have to pay for the same taste.

---

Elspode Thursday Dec 15 07:47 PM

Guiness foam with a shamrock...cool.

---
Your reply here?

The Cellar Image of the Day is just a section of a larger web community: a bunch of interesting folks talking about everything. Add your two cents to IotD by joining the Cellar.