Japan is well known for their humorous and off beat manhole covers but the western cultures didn't follow suit... for the most part.
But after years of fighting FOG(fat/oil/grease) and not being able to make an impression on the public, the term Fatberg did.
Suddenly people were paying attention so Thames Water wanted to keep that going.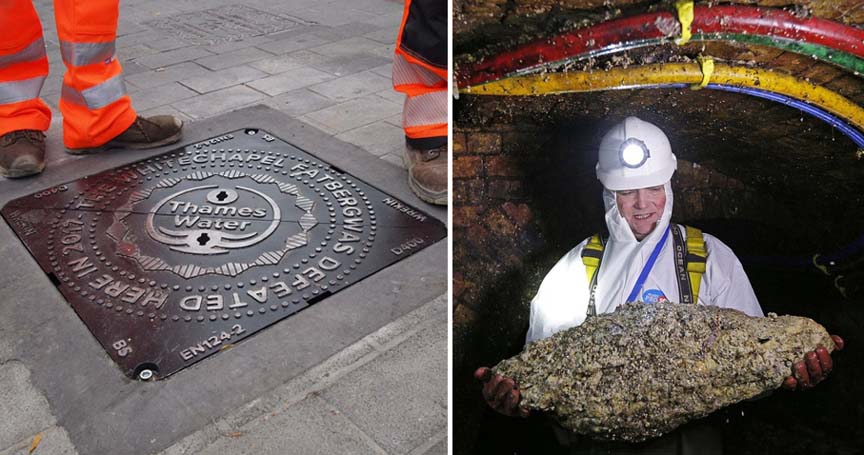 Quote:
In 2018, a special edition manhole cover was installed to commemorate Thames Water's victory over the infamous 130 tonne Whitechapel fatberg.
The vast majority—over ninety percent—of the grease found in sewers come from restaurants and eateries because of faulty or nonexistent grease traps allowing grease, oil and food scraps to find their way into pipes and drains. The other contributing factor are wet wipes, which are often marketed as "flushable" but they are not biodegradable like toilet paper.
The only silver lining in this story is that fatbergs can be converted to biofuel. The Whitechapel fatberg produced about 10,000 liters of biofuel enough to power 350 double-decker London buses for a day.
The trend is apparently catching on, maybe to offset post Brexit damage with tourism.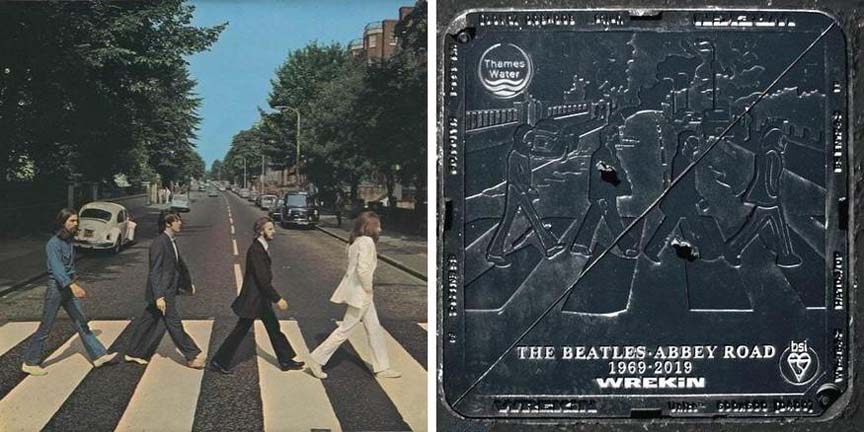 Quote:
As commemorative plaques go, a manhole cover marking the 50th anniversary of the Beatles' Abbey Road seems pretty niche. Then again, John, Paul, George and Ringo were all wearing drainpipe trousers.
The scores of tourists who visit NW8 to recreate the universe's second best-known crossing of a road*, will now be able to admire the iconic Abbey Road album cover immortalised in duct iron:
A one-off, the manhole cover is the result of a collaboration between Wrekin Products and Thames Water (love it when companies like this Come Together). Simon Turner, commercial director at Wrekin said:
"We've been aware that one of our manhole covers is situated next to that zebra crossing for a while now, so we knew we had to do something distinctive to celebrate the 50th anniversary of the Abbey Road album."

*The Chicken, innit
It appears these are the bolted down hinged covers which are much harder to steal than the round covers we use.
If the Abbey Road cover was the round type they would have to post a guard 24-7.