July 18th, 2015 : Water Towers
---
This German couple specialized in photographing industrial locations in a rigid cold black&white format.
It certainly is documentation, I guess itís art.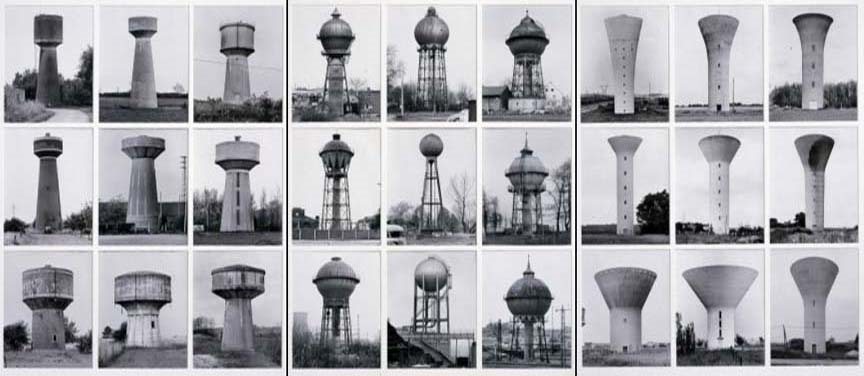 Quote:
Typology of Water Towers, 1972, is six suites of nine black-and-white photographs. It is one of the only complete Becher typologies contained and displayed together in one collection. The water towers are bound stylistically, yet through careful study the photographs reveal sometimes dramatic and sometimes subtle differences. Ultimately, to fully grasp the blunt, systematic display of the buildings, the duration of viewing time must be extended. The buildings take on a humanized aspect built of individual characteristics that lie outside dominant styles and oppressive paradigms.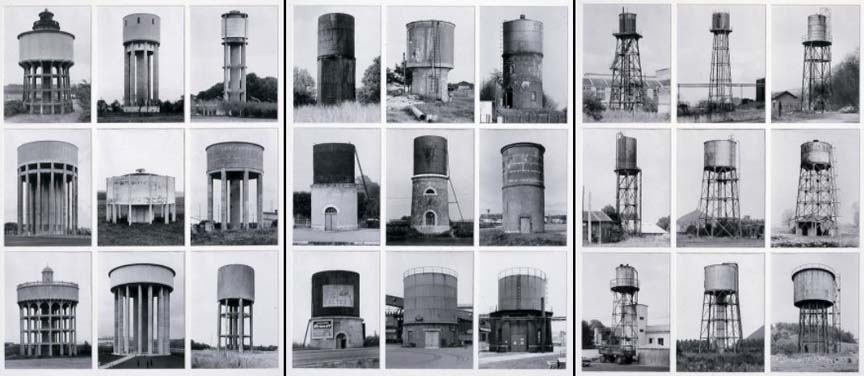 Quote:
Beginning in the early 1960s, Bernd and Hilla Becherís collaboration produced over two hundred photographic collections of industrial buildings, such as smokestacks, water towers, and factories. Continuing Germanyís lineage of documentary photography, most notably August Sanderís portraits of the German public, the Bechers aligned the style with the theoretical impulse of contemporary art. In many ways, the Bechers were recording the increasingly lost world of the Industrial Revolution, which is often viewed as a cause of modernist optimism and a social hope in the power of art and architecture. While not cynical, the Bechersí straightforward presentations of industrial buildings function as ambivalent elegies to this modern thinking at a time when theoretical movements in art became more critical of modernismís pretensions and unfulfilled dreams.
Yeah, if you say so.

link
__________________
The four horsemen ~ Hahn, Azar, Redfield, & Trump.