Quote:
Aganetha Dyck is a Canadian artist who is interested in environmental issues, specifically the power of
the small. She is interested in inter species communication. Her research asks questions about the
ramifications all living beings would experience should honeybees disappear from earth.
Them there's some highfalutin words there, ain't they. Saint Aganetha.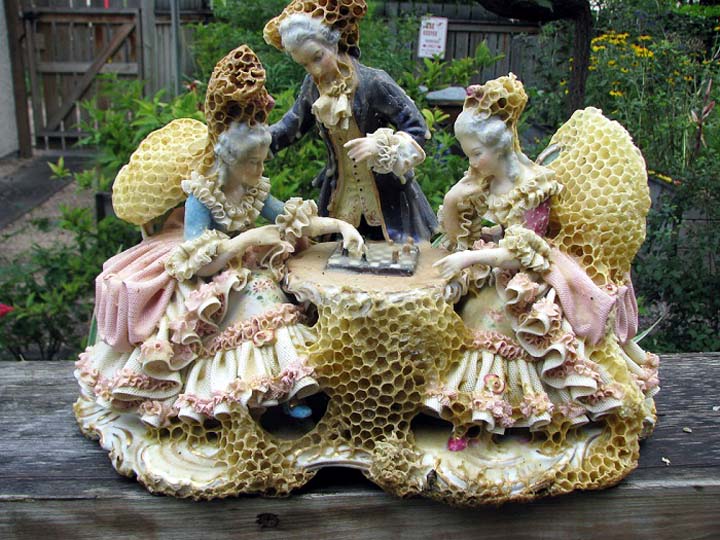 Quote:
Dyck deliberately chooses broken objects from second-hand markets and covers specific areas of the piece
to attract the bees before placing them in the hive. She asserts that honeybees pay attention to details
while "mending" the damaged parts with their honeycomb layers. She says, "While working with honeybees
I discovered their methods of construction and their ability to mend the hive's cracks and crevices
with honeycomb, wax and propolis.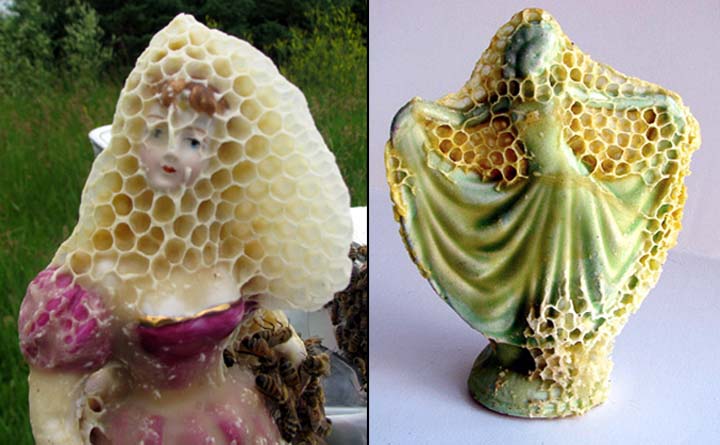 Quote:
"Choosing sports equipment is a reaction to the press discussing the importance of sports and their
related public funding vs artists and cultural workers and their public funding."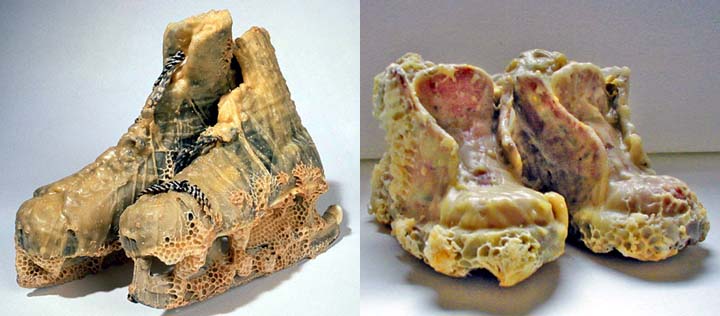 Doing a little research, she always loved fancy brick-a-brac, but couldn't afford them. She has to settle for
beat up stuff from flea markets with chips and flaws. But she could get the bees to stabilize the pieces
and cover the flaws, then she would carve away the excess, shaping the finished piece.
Quote:
I thought of the vast number of damaged figurines in antique shops and second-hand stores.
I knew honeybees were masters of mending and decided to give a selection of these now unwanted,
damaged, figurines to the honeybees. I was surprised that once the honeybees had mended the objects,
the figurines became collectibles again."
Yes collectable again... and sold for a hefty profit to finance going to the High Street shops that she could
never afford before. Got to hand it to her, she created a niche art form, and since she's the only one doing it,
they are rare (read expensive and lucrative).