You can download for free, eight of the 49"x 69" posters. What kind? Girly posters.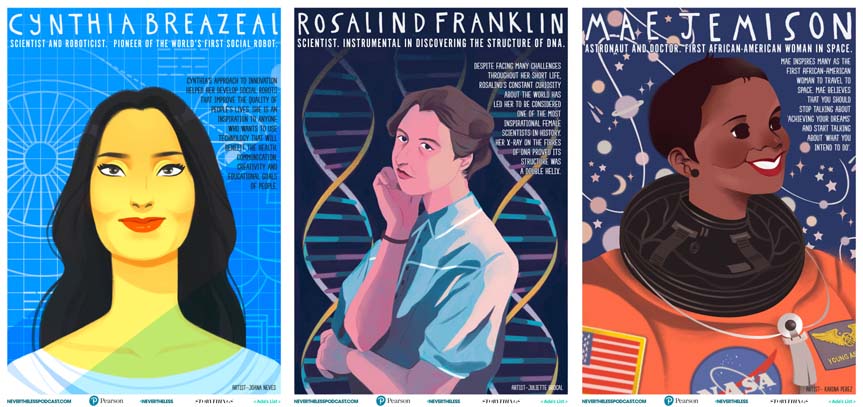 Dr. Cynthia Breazeal ~ Associate Professor of Media Arts and Sciences at MIT. Founded and directs the Personal Robots Group
at the Media Lab. Founder and Chief Scientist of Jibo, Inc.
Rosalind Franklin ~ A pioneer of the study of molecular structures of coal, viruses, and DNA. Her X-ray diffraction images of DNA
enabled Crick and Watson to identify the double helix.
Mae C. Jemison ~ An American engineer, physician and NASA astronaut, first Black American woman in space. Founded a company
researching application of technology to daily life. She appeared on an episode of Star Trek: The Next Generation.
A dancer holding 9 honorary doctorates in science, engineering, letters, and the humanities.
I wonder if she got more Honorary PhDs from her work, or appearing on Star Trek? You know, Engineering degree... crowd; ho hum.
Physician... crowd; nice job. Astronaut... crowd; unusual, congrats. Star Trek... and the crowd goes crazy as Jemison hit the stage,
decorum was lost as the po-po bossed the crowd back in a rage.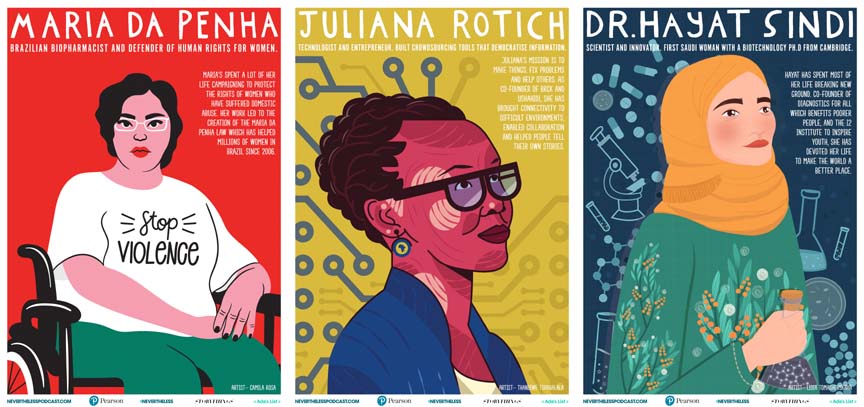 Maria da Penha ~ A Brazilian biopharmacist and human rights defender.
Juliana Rotich ~ A technologist, strategic adviser, entrepreneur, keynote speaker, and co-founder of BRCK Inc, a hardware and
services technology company based in Kenya.
Dr. Hayat Sindi ~ Born in Makkah, Saudi Arabia and a leading biotechnologist. Founded the i2 Institute and co-founded
Diagnostics For All. Ranked 19th most influential Arab in the world and 9th most influential Arab woman. PhD in biotechnology
from Newnham College, Cambridge, the first Saudi woman accepted at Cambridge in biotechnology, and the first woman
from any Arab Persian Gulf State to PhD it.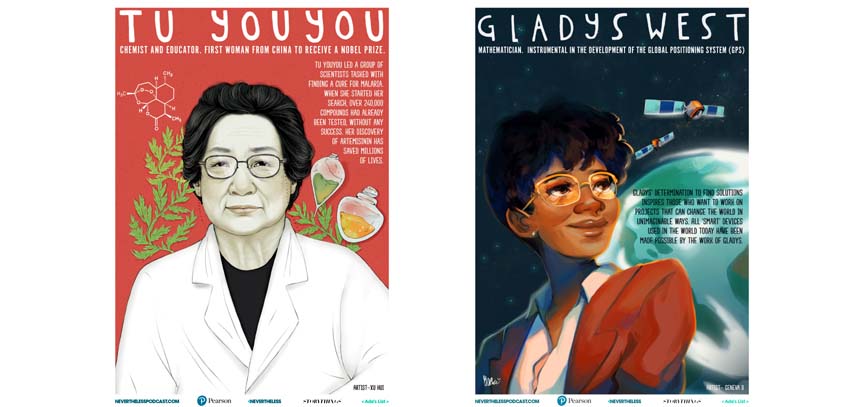 Tu Youyou ~ A Chinese pharmaceutical chemist and educator, discovered drugs used to treat malaria, saved millions of lives.
♫ Happy Birthday to Tu Youyou. ♪
Gladys West ~ An American mathematician known for her contributions to the math of GPS.
link