Dennis Fast is an excellent wildlife/nature photographer. Heís been at it a long time and written several books, childrenís and
coffee table, that have sold very well. His latest batch to go viral on the net was the Churchill, Manitoba, Polar Bears frolicking
in the Summer Fireweed. Fast said you canít sneak up on them, they know youíre there, and it can take some time for them to
determine youíre not a threat and act naturally.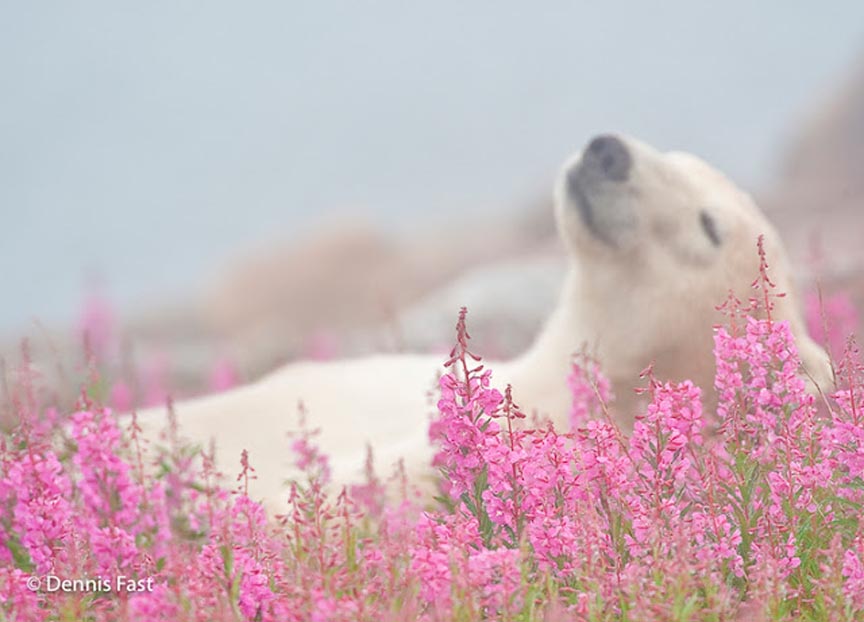 Quote:
Itís true that the winters are long and harsh, sometimes even for a polar bear. Imagine, then, how it feels for the photographer trying to cope in their environment! I have photographed the bears in conditions where the temperature hovered around -40 to -50C (-40 to 58F). Fortunately, itís not always that cold, but it calls for multi-layers of clothing and special precautions with the camera. Frostbite is a constant concern, as is hypothermia.

Quote:
So you might think that photographing them in the summer or fall would be a walk in the park. But thatís not always true, either. When temperatures soar to 30 to 35C (86 to 95F), as they sometimes do in the sub-Arctic, the bloodthirsty insects rise up with the heat. Mosquitos, black flies, horse flies, and deer flies all want your blood! They not only pester you relentlessly but they do the same to your subjects. The result is restless, twitching animals that are often unsightly with bugs when you want a close-up shot.
Sometimes fall is the best time, as there are no bugs and the days feature blue skies and gentle breezes.

link
link