I was looking at a bunch of old colorized pictures, lots of British Royalty, internationally know despots(am I repeating myself) and
odd pictures. When I came across this picture of these guys putting on war paint. The caption said two members of the Filthy 13.
Say what? Go to Wiki.
Quote:
The Filthy Thirteen was the name given to the 1st Demolition Section of the Regimental Headquarters Company of the 506th Parachute Infantry Regiment, 101st Airborne Division, of the United States Army, which fought in the European campaign in World War II.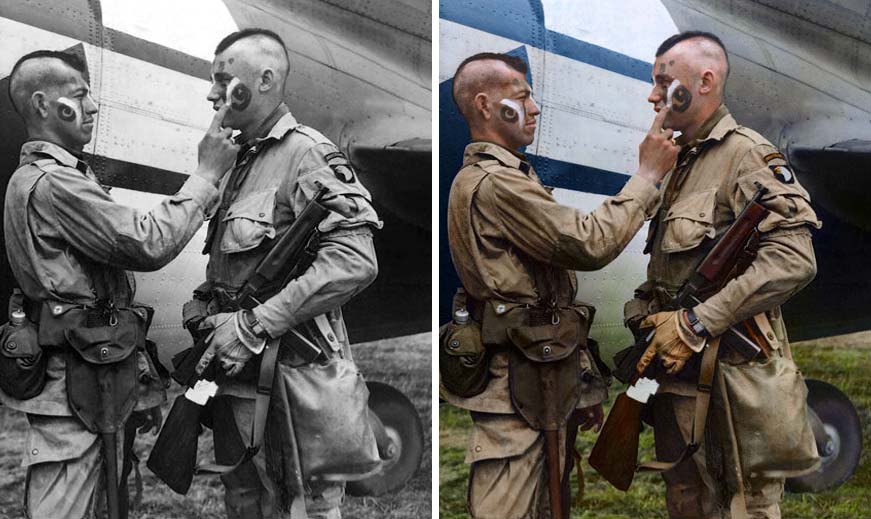 Quote:
The 1st Demolition Section was assigned and trained as demolition saboteurs to destroy enemy targets behind the lines. Inspired by Jake McNiece's leadership style, the unit had a tremendous mission focus but their blatant disregard for those aspects of military discipline that did not contribute to the mission became the bane of their officers. The unit acquired the nickname the Filthy Thirteen while living in Nissen huts in England. A demolition section consisted of thirteen enlisted men and they refused to bathe during the week in order to use their water ration for cooking game poached from the neighboring manor. Photos of the men wearing Indian-style "Mohawks" and applying war paint to one another excited the public's interest in this unit. The inspiration for this came from McNiece, who was part Choctaw.

During the Normandy Invasion of Europe in June 1944, the group was airdropped with the 3rd Battalion, 506th Parachute Infantry Regiment by aircraft of the 440th Troop Carrier Group of the United States Army Air Forces. They were ordered to secure or destroy the bridges over the Douve River. Half were either killed, wounded or captured on the jump, but the rest led by Jake McNiece accomplished their mission. Unfortunately, most of the 3rd Battalion leadership had been killed on the initial jump so without any contact with the 3rd Battalion, senior officers assumed the battalion had failed its mission and ordered the Air Force to bomb the bridges. The Filthy Thirteen also participated in the capture of Carentan.

During Operation Market Garden, the Demolition Platoon was assigned to defend the three bridges over the Dommel River in Eindhoven, the Netherlands. German bombing of the city killed or wounded half the demolitions men in the platoon, and McNiece was then promoted to platoon sergeant. Jack Womer took his place as section sergeant. For the rest of the campaign, the demolitions men secured the regimental command post or protected wire-laying details. On one occasion, the survivors of the Demolitions Platoon were assigned as a rifle squad to an understrength company.
Lots more at Wiki about these misfits.