No, not any of the tile floors they are digging up in pompeii or anything that cool.
I'm an art-ignoramus, a troglodyte of avant-garde, but I try to be tolerant of others preferences, as their affinity for crap usually
doesn't cost me any time or money. However, I can see covering a 4 x 16 meter (13 x 39 ft) section of floor with a thick layer of
Peanut Butter for a couple months has potential risks.
Insects/rodents to humans/lawyers, and rancid/de-homogenization come to mind.
Quote:
In December 2010, Museum Boijmans Van Beuningen purchased the concept of the Peanut butter floor (1962) from Wim T. Schippers. From 5 March to 29 May 2011 the floor was on display in an exhibition in which other collection works by the artist were also shown, such as the floating stone 'Het Is Me Wat' (1999) and the white carpet 'Eggs' (1966) of mops made in which green eggs are processed. Wim T. Schippers has answered more than 500 questions about the Peanut butter floor via Peanut butter post.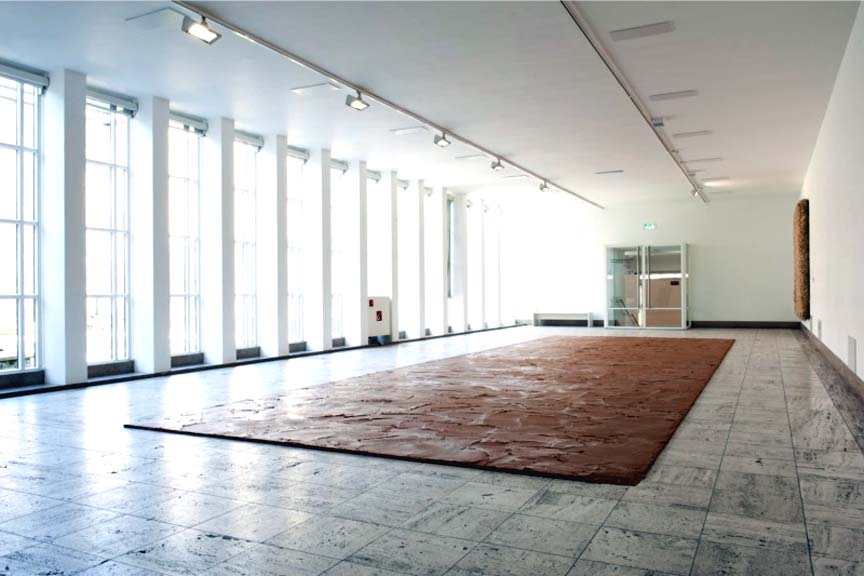 Quote:
Wim T. Schippers is best known to the general public as a maker of television, radio and theater, as a writer and as a visual artist. As an artist, Schippers has delivered many high-profile works, in which food played a major role for a period of time. In 1962 a pink pudding was exhibited in Museum Fodor that was so large that visitors could not walk through that room to the garden. Schippers had made an exhibition of found objects for the garden room: a children's mattress, a tablet of chocolate (Van Houten; his father worked there as an accountant), a pack of ice cream cones, a bowl of money and a plasticised cabbage were shown here.

Two floor sculptures were also on display in Museum Fodor. One room was completely sprinkled with salt, while another room was completely filled with broken pieces of window glass. This is also where the idea for the Peanut butter floor came into existence. For an exhibition in Galerie '20 by Felix Valk (later Galerie Jaki Kornblitt) Schippers had devised a floor of cooked spinach. The gallery owner did not think this was such a good idea, and the artist suggested endive. Another work with food was a chair that Schippers covered in 1965 with canned noodles. The bami chair and a table with peas were made at Modern Places organized by him in various places in the country. Groups of food have also been devised, following an example by Daniel Spoerri (known for his 'eat-art', among other things).
That tells me pretty much where this guy is at.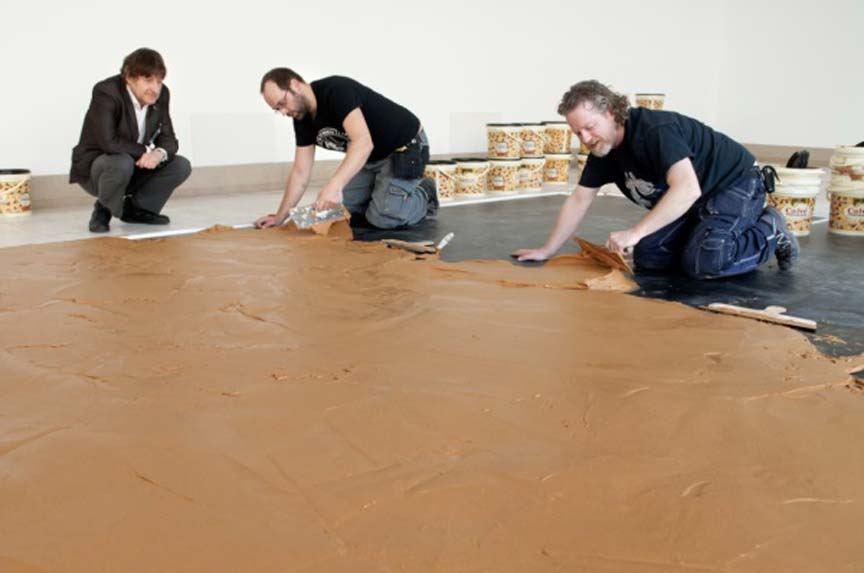 He sold them the idea, but the museum dictates the space, and it's built by hired help, so the size, shape and not even the texture is his.
Quote:
The peanut butter floor damaged - statement from the management
A non-observant visitor suddenly entered the Peanut butter floor ... A corner of the two-centimeter-thick floor was damaged by footsteps. It was the third person who accidentally walked straight ahead with his head in the clouds. As always with damage to a work of art in the museum, the person who makes the damage is responsible for it. For this there is liability insurance. Nothing new. Turn over a Dalí or step on the Peanut butter floor; Accidental damage continues to damage. Whether you like the artwork or not. And whether you find it a work of art or not. With a scratch on someone else's car it is also not about what the car is worth or whether the colossus may call itself a car; it's about the scratch.
Fortunately, the costs for the peanut butter slip are a lot lower.
And that this tourist receives a bill and how low that bill turns out, is that so important? In that case, Boijmans looks forward to many other discussions that are completely unimportant. Because if the right-minded nation can worry so much about peanut butter, it may not be so bad with the Netherlands. Museum Boijmans Van Beuningen is therefore pleased that the general knowledge about and involvement with peanut butter has increased so explosively during the months of the exhibition. With this, the museum - after everyone has grown up with it - helped the entire country with the peanut butter and contributed to the cultural heritage.
Right, one of the largest customers for your agricultural products is pulling back, your big neighbors to the east are becoming more militant by the day, but it's more important to add peanut butter to the cultural heritage.

link