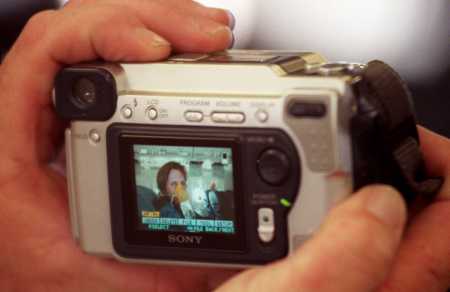 This picture of a picture is from a passenger's digital camera when he was on a flight that encountered severe turbulence.
I think that digital camera pictures are awesome, particularly if they are documenting things that we want to know about.
Digital camera images are amazingly crisp and lifelike compared to print images. In my experience, digicams tend to sharpen edges, brighten everything. Even when you take a film shot and scan it in, so that you're looking at a shot produced by glowing phosphors, the digital camera image is brighter and sharper.
That's why I can't wait for digital images to be more widely used. In a case like this one, I wonder why the news folks didn't use the actual image itself, instead of the image of the image. The image itself is pretty striking, I'd wager.
The immediate processing afforded by most digital cameras means that a shot can be available in seconds. We're about two-three years away from the point where consumer-level cameras have the same resolution as regular film; they say that a digital camera will need to be five megapixels or greater to match film grain.
After that, it will take another few years for people to realize that they can take as many images as they want without any additional cost. Concurrently, people will learn how to use them, swapping and pringing digital photos quickly and easily.
At that point, an event like a riot will be documented by many digital cameras. A bad flight will have ten people walking off with photos, maybe even submitting them to news organizations on the internet pay phone in the gate (reading the "film" in with a smartcard reading slot in the phone's console).
By that time, too, hopefully we'll have short video recorded to smartmedia, and actual short films of events will become commonplace. Maybe the nightly news outlets will find that the most bang for the buck will come from bargaining with various "regular" folks who have video and images of events.
Or maybe I'm just daydreaming. What do you think?