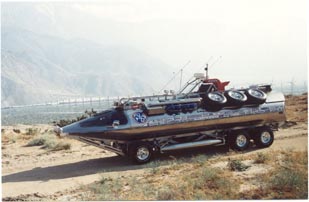 Slithy Tove brings us this item on Ebay, which you have a day left to bid on. The reserve of $155,000 might keep the less moneyed of us from bidding on it, though.
It's called the "Dobberton Surface Orbiter". Built over 4 1/2 years, with a stainless steel hull, it goes across both land and sea. No word on whether it's diesel, or whether you have to know how to drive stick, or whether it's sea-worthy enough to handle any coming apocalypse you might dream up involving Kevin Costner.
It's cool, alright, but if I somehow became idly rich I doubt I'd squander anything on such playthings. If you have six figures to spend on transportation, I should think the BMW M5 or the top of the Mercedes S-class would make a better buy. Those you can park downtown without a permit. Still, to each his own.
Here's
the Ebay link in case you want to see it there
. (It'll time out, sorry for viewers reading this in the far future.)